The bonsai passion of Dennis Fuchs
At the age of 16, Dennis spent all his saved pocket money to buy his first bonsai. Many winding paths followed over the years, but he never lost his passion for bonsai, which grew even stronger.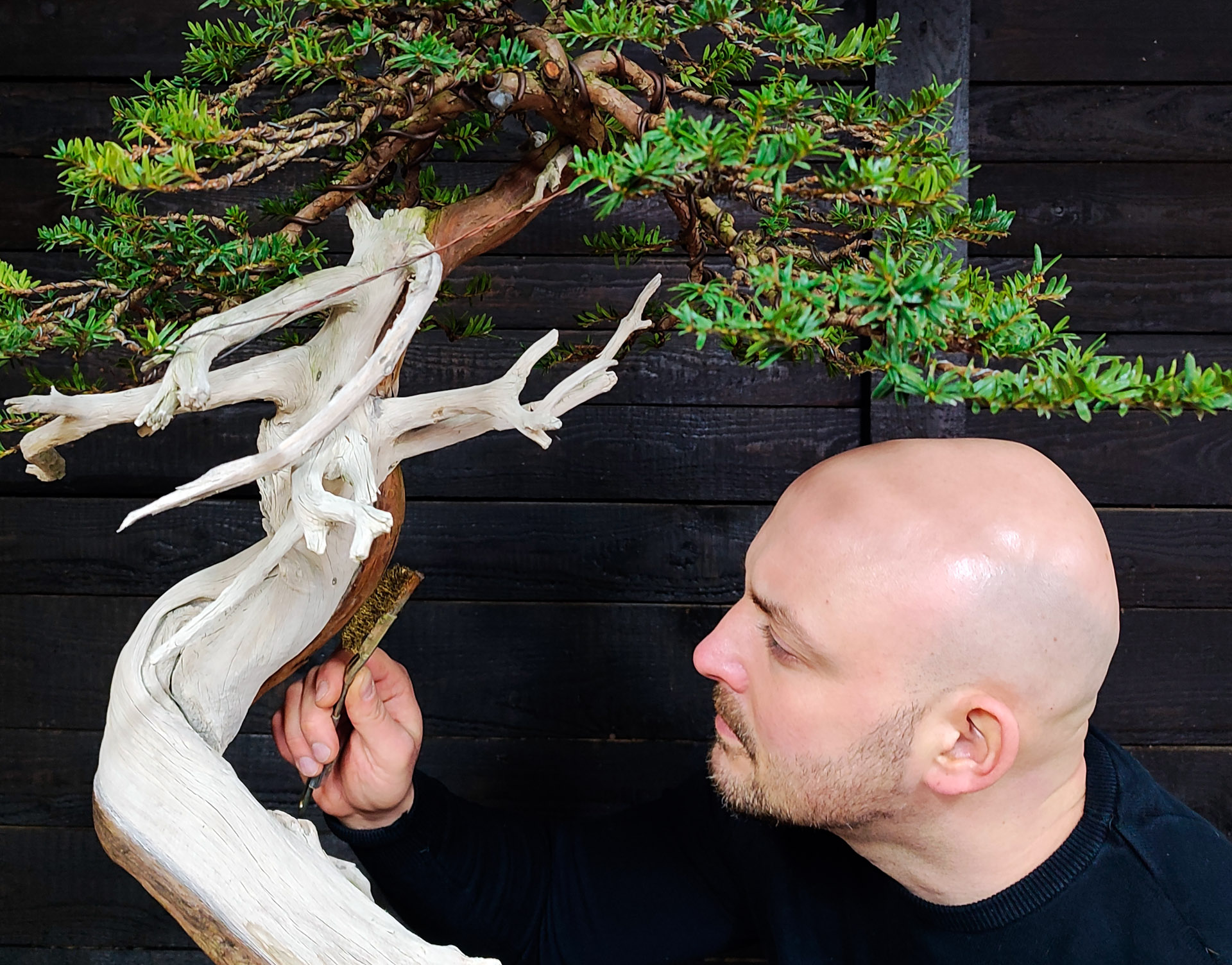 Your professional education?
I am a trained shipping agent. I worked in this profession for almost 10 years until I decided to start a bonsai nursery. It all began with the foundation of our online shop in 2017. We have been in the bonsai for 6 years now and have been able to increase our range every year.
My passion for bonsai started in 2004. As with many bonsai enthusiasts, I also came into contact with indoor bonsai. At the age of 16 I bought my first bonsai with my pocket money. A Ficus retusa, I'll never forget it. A hobby quickly became a passion. I did bonsai as a hobby until 2016. It went pretty well considering I was self-taught. At Christmas 2015, my family gave me a workshop voucher from Bjorn Bjorholm at the bonsai workshop of Werner Busch. This experience quite literally broadened my horizons. In the same year, after said workshop, I realized that I would also devote my professional life to the subject of bonsai.

Since there was no bonsai shop in the Rhein Main area, a good opportunity presented itself. At the end of the same year I founded the Kelsterbach Bonsai Group. This still exists today, now having some 25 members. The working group is probably one of the best things we achieved and has resulted in many friendships and gave me the opportunity to meet people I would not want to be without in my life. In 2017 we went online with our web shop, the rest is history.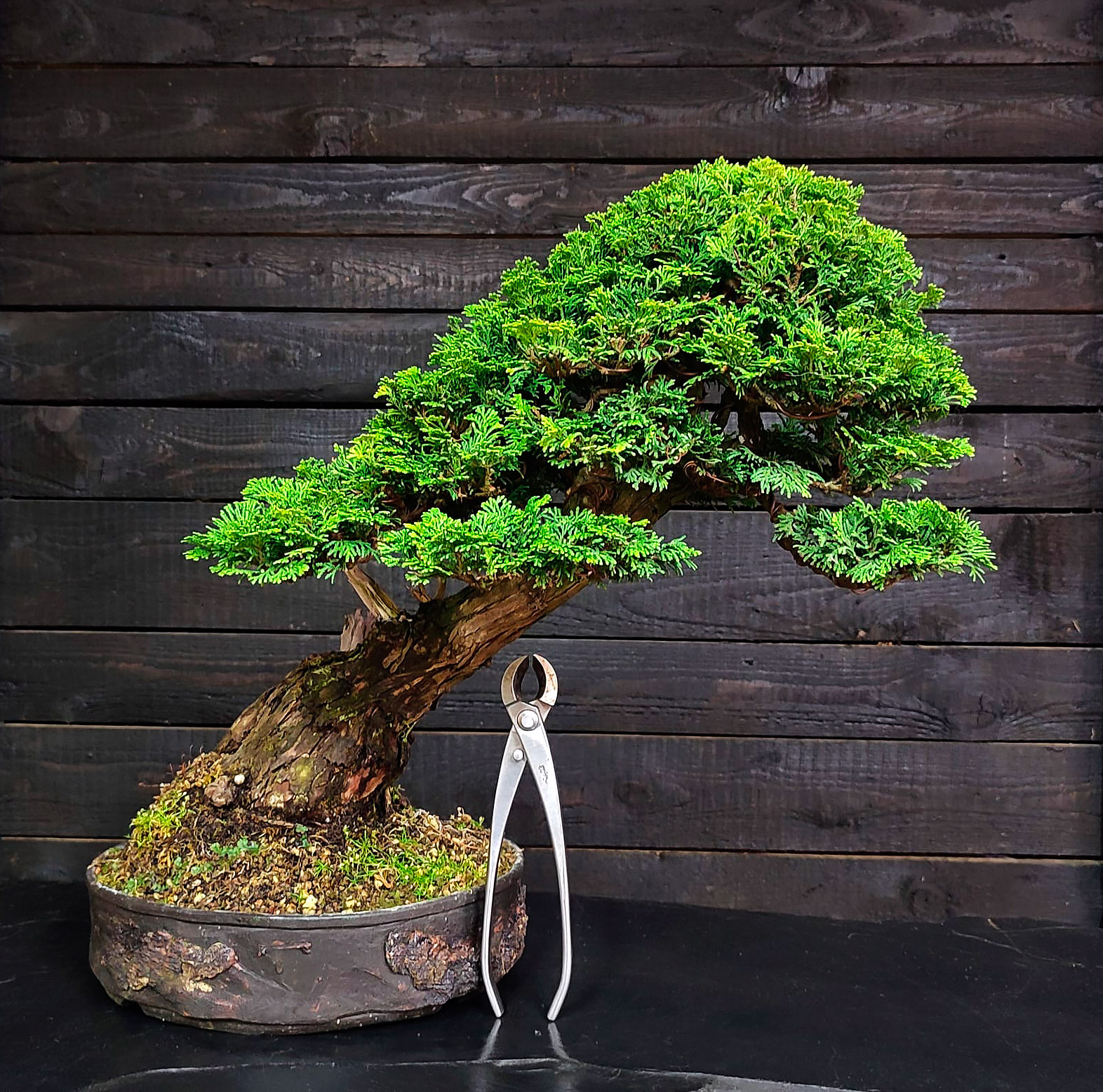 How did you acquire the skills?
In 2019 I started training as a professional bonsai designer at the International Bonsai School with Mauro Stemberger. I successfully completed this training and have been running my own bonsai school ever since. The most important thing I learned is how to perform correct wiring techniques to perfection. During this time I also regularly attended various workshops with JP Polmans and Bjorn Bjorholm.
Any plans to go to Japan?
I had plans to go to Japan in the early days. I now have a solid base and family, so it would be very difficult for me to go down such a path at the moment. There are now all sorts of bonsai professionals in Europe to achieve this goal. However, this would of course have been a horizon-broadening experience and who knows if I will one day realize this dream. Never say never!
In the words of bonsai artist Deborah R. Koreshoff, bonsai is art, science, history and philosophy all rolled into one. No other art form combines these qualities more than bonsai. I have experienced various misfortunes in my life and I can say with full conviction that bonsai saved my life and my sanity. For me, bonsai means more than just the intensive care of trees. Bonsai enabled me to be self-fulfilling, gave me a responsible task and taught me patience and gave me a comprehensive understanding of life itself. It makes one a better person.

You see, when you finish a work in the craft or artistic field, be it a picture or a piece of furniture made of wood, it is finished when the work is done. A bonsai is never perfectly finished. I think that triggers a kind of fascination. If we do our job well, we have the opportunity, through a simple tree, to erect a monument that far exceeds our lifespan. This is how we can leave a part of ourselves as a memory for our descendants. This, I think, best describes my philosophical approach.
Any other interests or hobbies?
Since the bonsai nursery keeps me pretty busy, I don't often have the time for other hobbies. Otherwise, I like to spend my free time with my partner and our 5 dogs, which give me the energy I need for the next day.
Which trees do you most like to work on?
I prefer to work with pine or juniper. The results you can achieve in a very short time greatly inspire me. In my early years, I mainly worked on conifers. For a good 10 years, however, I have also devoted myself intensively to growing deciduous trees. In the end, I even have to say that there is a far greater amount of work involved in the growing of deciduous bonsai than in growing conifers. Mistakes are just harder to correct.
Yes, I do have one. My favourite is our large Pinus sylvestris, which I styled during my training with Mauro Stemberger. I found a presence and unique movement in this old tree that isn't present in any other tree we have. We affectionately call it, Anaconda.
What is your worst mistake?
My biggest mistake was repotting an approximately 100 year old larch into a much too small pot. The tree died in the same season, of course, leaving me with a bitter experience! But as the saying goes, 'the greatest masters are those who never stop being students'.
What is your best achievement?
In my opinion that is the possibility of educating a new generation of bonsai designers and helping to establish the bonsai culture in our region. In my early years, I lacked the experience and it was difficult to find suitable material for bonsai. Now I have been able to change this and created a place where there is a balance between solitaire and yamadori. Also every beginner can find something suitable. It makes me happy to see people who are at the same point as I was many years ago. You can witness the fire and enthusiasm in their eyes!
Your dream comes true when...
I think I've been able to realize my life's dream to a certain extent up to this point. During my time as an office worker, for many years I dreamed of being able to make a living from my hobby. I was able to make this dream come true. With hard work and a strict focus on my business, I've managed to establish a solid foothold in the German bonsai scene. Of course, I know that nothing lasts forever. So I hope to be able to stay in my position for many more years until the next generation takes over from me!
Do you favour the Japanese or Western bonsai style?
I personally think you have to get the best out of both worlds. Every bonsai artist has their own style. Be it through Western or Asian influences. For me the Japanese perfection of a Naoki Maeoka fascinates me as much as the balanced design of western artists like Mauro Stemberger. I think that no matter which of these paths one chooses, one shouldn't ever disregard respect for Japanese style theory. Without Japanese bonsai, the European style would not exist.
Is it difficult to acquire suitable material for bonsai?
It's not always easy for every beginner to find good raw material, be it conifers or deciduous trees. Luckily since I have built up a good network and cooperation with other bonsai professionals, it is no longer so difficult for me to get good material. Ultimately, the only factor that comes into play here is the price.
Is bonsai too expensive now and, perhaps, too elite?
I think quality always comes at a price. Since I am lucky enough to have a look behind the scenes of bonsai logistics and production, prices for imported goods have increased, this is due to increasing economic costs. On the other hand, the quality of raw material available here in Europe is increasing year after year, but logically here too are price increases. I think it's the job of us bonsai dealers to keep bonsai available and affordable for all bonsai enthusiasts.
I would also like to address the younger bonsai generation. Always keep your goal in mind. Go your way at your own speed. You will meet people who will walk the path with you, help you learn and develop your passion. But there will also be many people who try to divert you from your path. Trust in yourself, your plants and ability. If I had listened to all the people who had told me that I would not get
anywhere in this scene, I certainly wouldn't be where I am today!
The biggest thanks go to my partner and my parents.