Udo Wollenhaupt is passionate about drawing and sketching bonsai.

Udo, a man of many talents, is known not only for his work on shohin, but also for his outstanding sketches and water colour drawings.
Using his knowledge as a lighting technical expert, he seeks to integrate this method into his drawings. His integration of lighting techniques brought him to the idea of drawing bonsai to present the changing seasons. Additionally, since 2010, Udo has been known as a very successful teacher in the art of drawing bonsai with a certificate from the BCD.
Two methods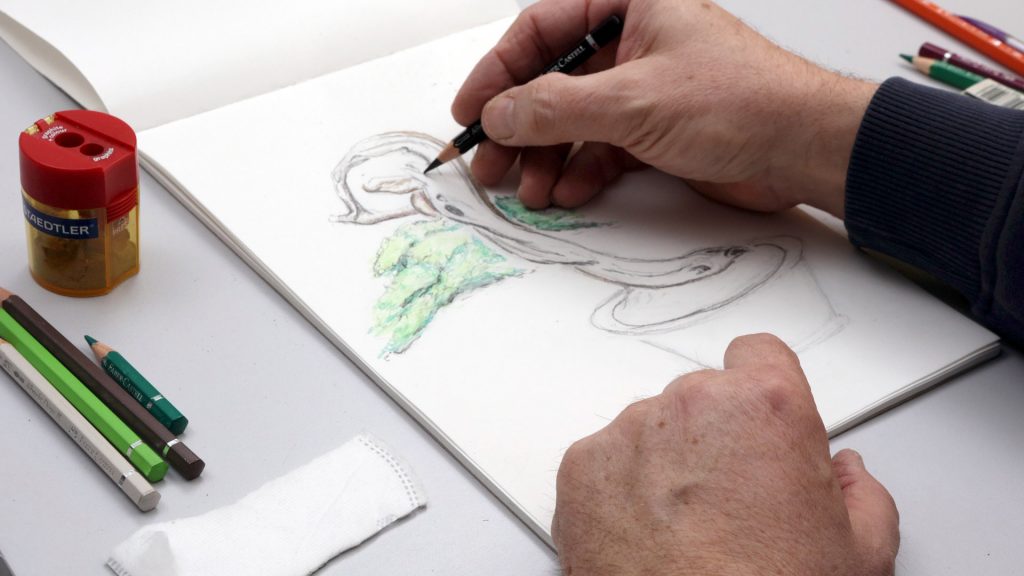 As a teacher of art, Udo relies on two very different methods. The first being to let the student sketch his vision of a bonsai in a period of no longer than ten minutes. What is remarkable about this technique is that, in a minimum amount of time, a picture-worthy bonsai is created.

The first drawings are generally created in black and white with only the use of a felt tip pen.
More details
For a more detailed drawing, obviously more time is required. Here, the use of special water colour pencils are used in order to bring life into the drawing. His first step is laying the basic design only with the use of a felt tip pen. Next, Udo adds some basic structure to the trunk, then branches and finally a container — all with a black water colour pencil. It's worthy to note that he always leaves some spaces, however small, in the main structure of the tree.
He explains that 'It renders the final drawing more natural and also provides more depth.' Udo then incorporates the foliage mass but, in order to build the foliage properly, utilises up to five different shades of green. For this he has an entire arsenal of pencils at his disposal, these provide different shading as well as special erasers and an eraser pencil. 'These erasers,' he says, 'are not only used to get rid of the mistakes, but also to blend colours as well as fuse the branch structures together.'

Udo uses mainly watercolour pencils that have a slight resemblance to normal colour pencils, but are water soluble and present a pastel finish. He also works with a wet paper towel in his free hand in order to blend colours into one another. What is also extremely impressive is the remarkable attention to detail within the drawing.
Just getting started
Looking over Udo's shoulder, one gets the impression that he is finished with the picture, but no, he's just getting started, adding more fine detail. Emphasis is also placed on creating depth and finer details with a large dash of patience also thrown in. What at first appears to be a plain pencil sketch, slowly transforms into a vivid masterpiece with noticeable depth and great attention to the finer aspects. 'Such sketches,' Udo says, 'require a couple of hours whereby most of the additional time is for adding the finer detail.' The final result obviously speaks for itself.
10 minute sketch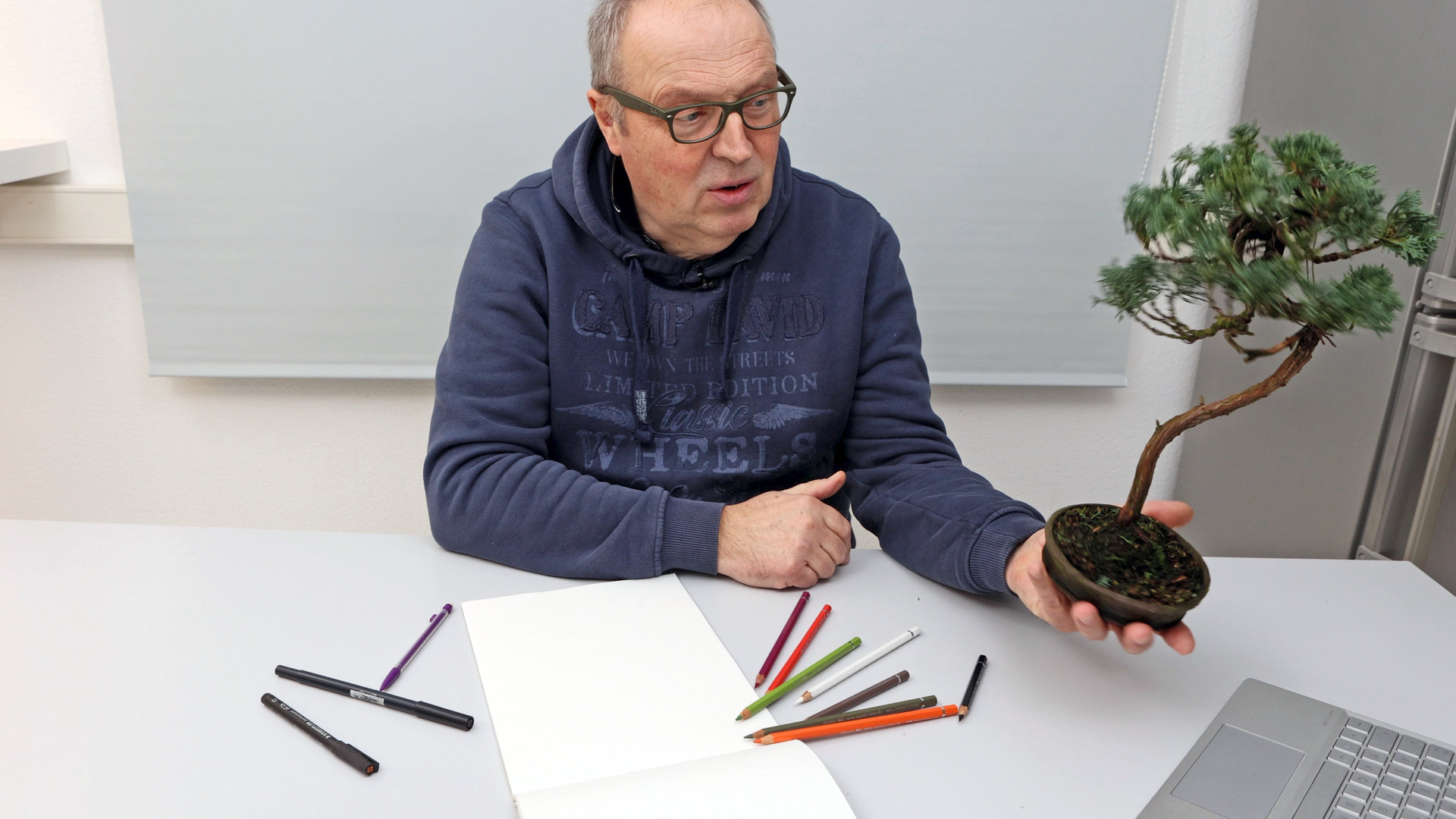 Start with a simple sketch, using this small bunjin juniper.
Examine the shape of the trunk and foliage mass and try to sketch your vision of the tree.
A simple line sketch made with a pencil or felt tip pen.
Detailed drawing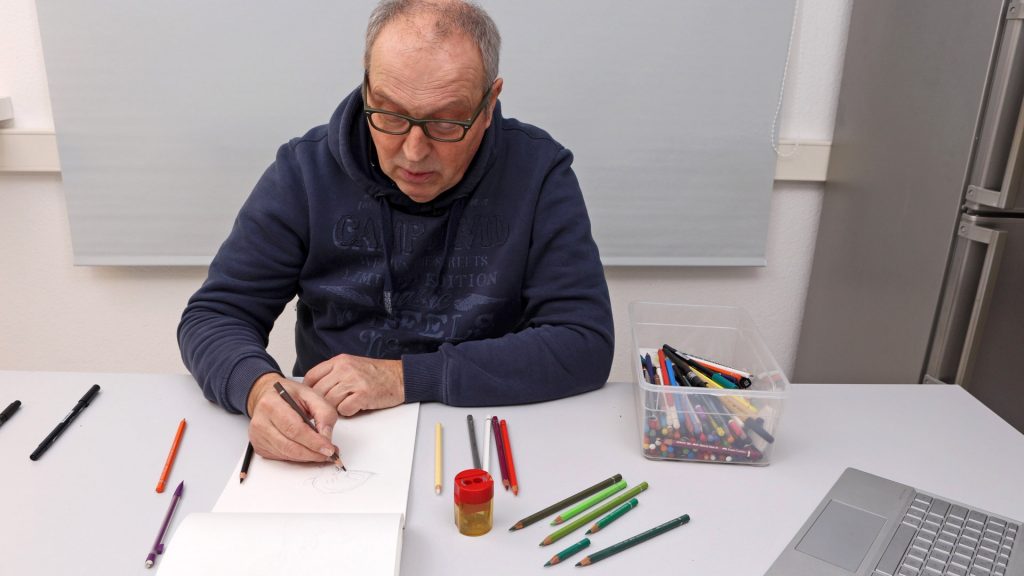 A more detailed drawing takes a couple of hours. Start with drawing a simple sketch. Then use colour pencils to add colours.
Use various gradients of green to get the effect of shades and so create depth in foliage. I use various browns to get the realistic effect of the live veins on junipers.
Start with a soft pencil (HB) to draw the outlines of the tree.
Slowly fill in details with colour pencils.
A black pencil is used to give accents and detail to the drawing. Use it also to create darker parts suggesting shaded areas.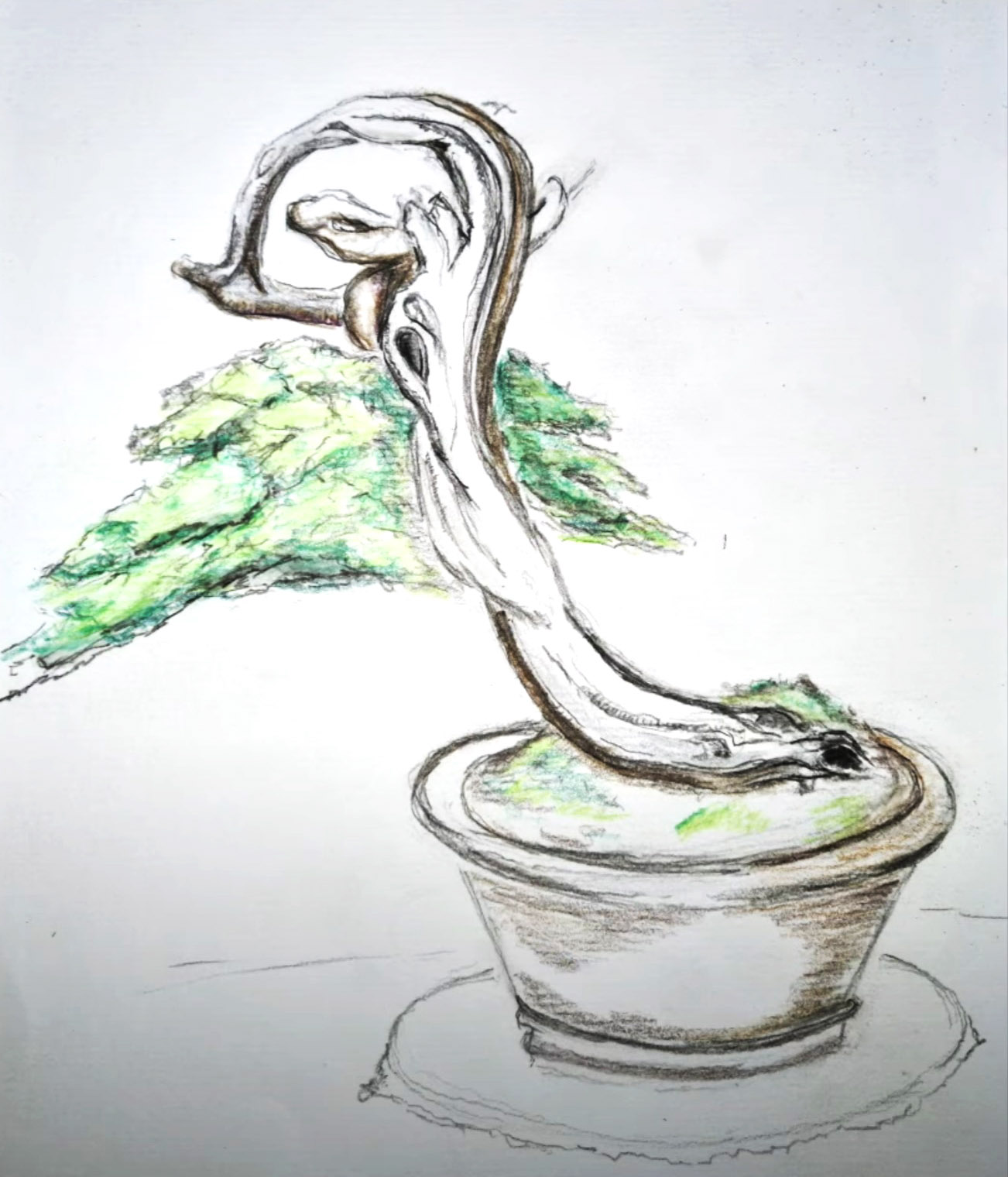 Halfway through the drawing. With a slightly damp tissue you can blur certain parts to mix colours.
The final result after a few hours work. To let it look more three-dimensional, add white, suggesting light fall, on the curves of the live vein and darken it where it bends.

A samurai warrior, made specially for a hanging scroll to fit in a display of the small juniper.
Some other recent drawings.
A plain pencil sketch, slowly transforms into a vivid masterpiece
About the artist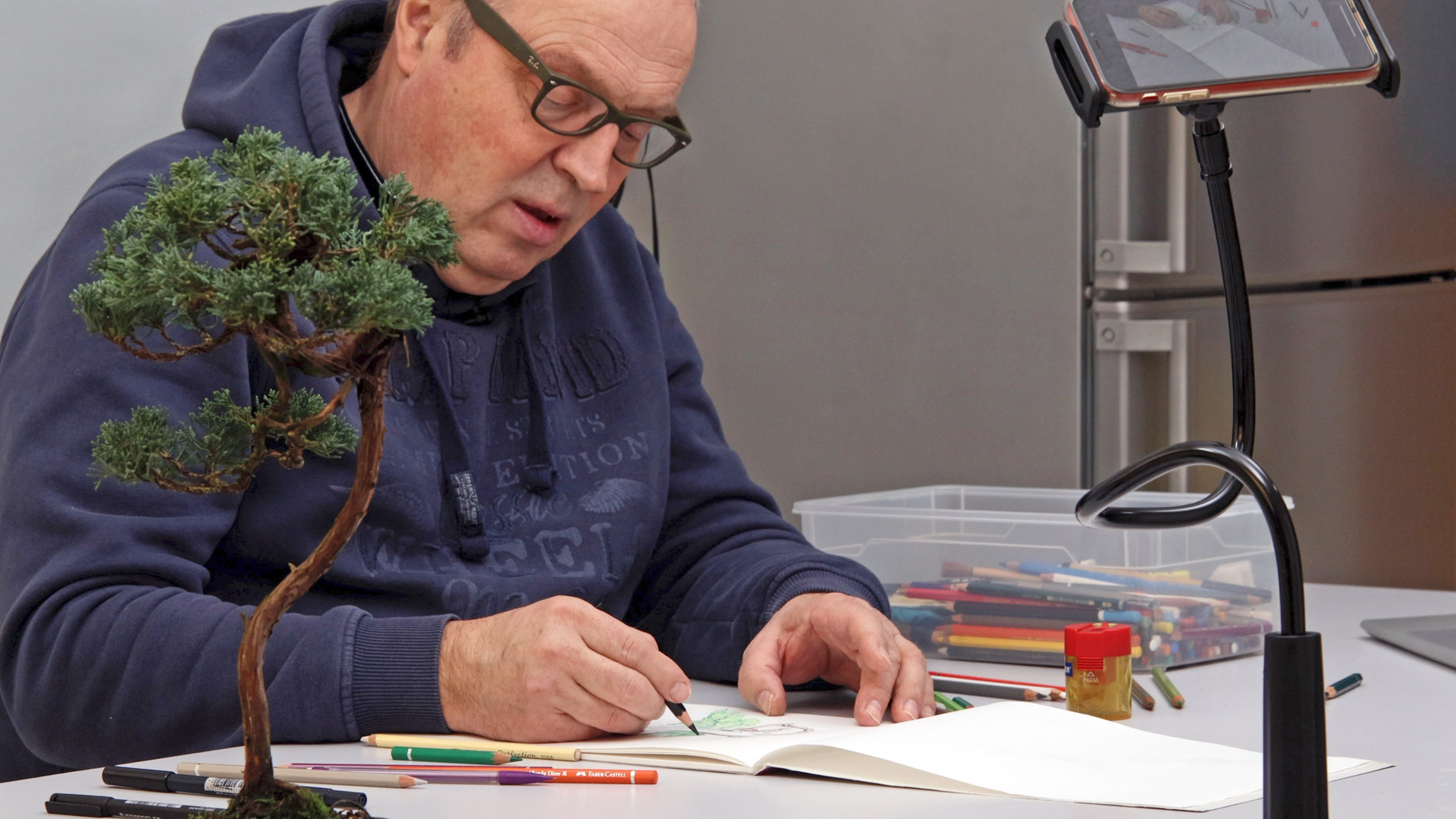 An expert in architectural lighting, Udo Wollenhaupt spent some time in Heidelberg, Germany while he studied his craft. It was during this time that he, just by chance, paid a visit to the famed Bonsai Museum in Heidelberg. Although this was the beginning of it all in 1985, it took an additional 10 years before the hobby finally took a hold of him. Udo started his schooling under the guidance of professionals who included Walther Pall, Jörg Derlien, Jürgen Zaar, Farrand Bloch, Danny Use and Othmar Auer to name just a few. To further his knowledge, Udo attends a yearly school under the guidance of Jörg Derlien, Joachim Sichma and Hartmund Münchenbach.

In 2012, Udo was accepted to compete in the New Talent Contest (NTC) held at the yearly Bonsai convention in the city of Orscholz, Germany. One year later, he represented Germany at the EBA contest in Audincourt, France, taking 6th place.

Udo concentrated mainly on larger specimens such as juniper and yew. But eventually he wandered off into the arena of shohin. Today, Udo not only styles shohin but also builds his own tables and display units. And, since 2015, Udo has engaged himself within the BCD (Bonsai Club Deutschland) as the representative for the shohin group.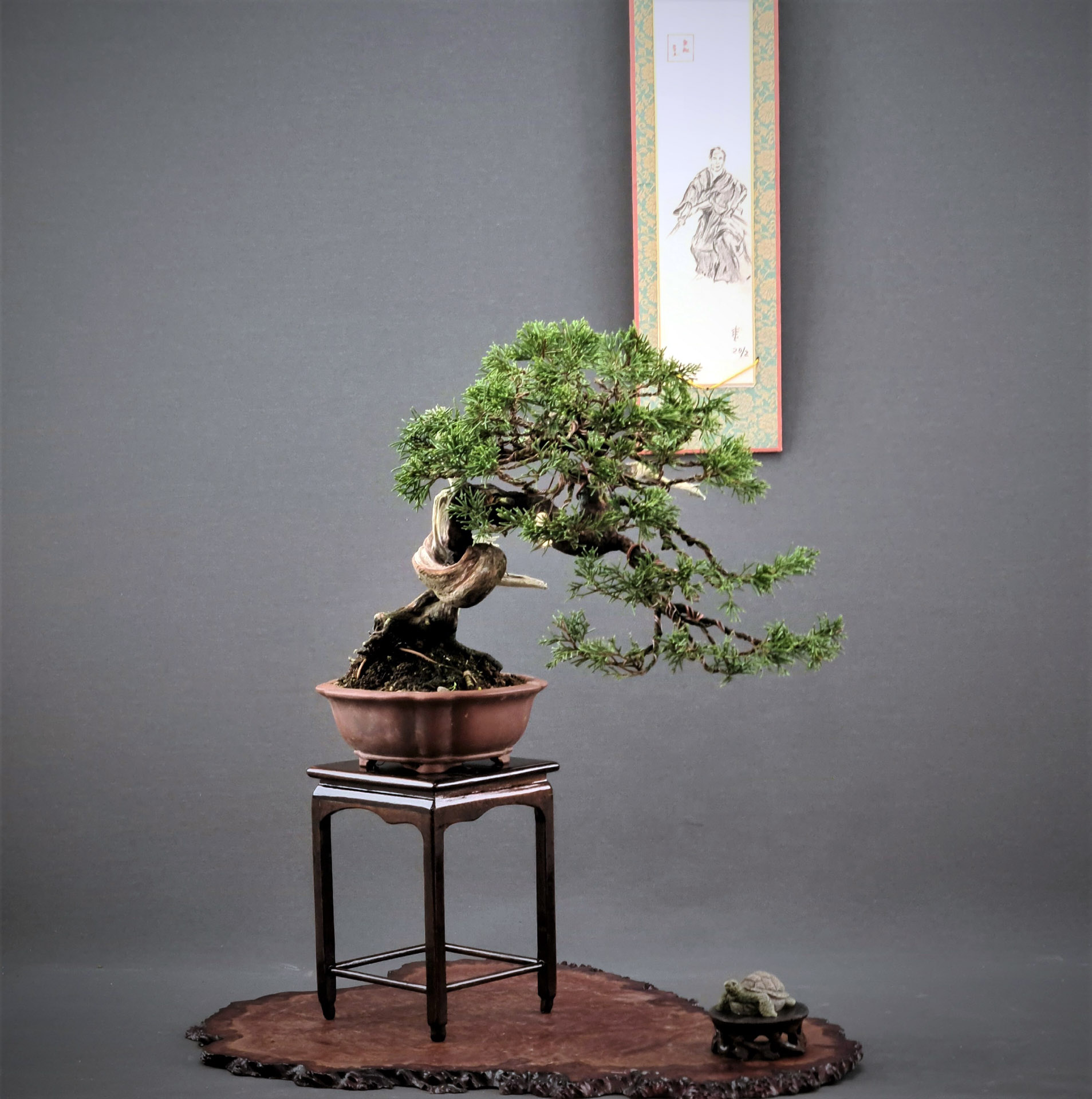 ---
© Copyright Bonsai Europe Publications