In memory of Serge Clémence, one of his works on a mountain pine
The late Serge Clémence was a real bonsai Master, who mainly worked on yamadori trees. His bonsai, all dug up by himself and carried on his back down the mountainside, have become iconic works. In this article you can still enjoy his masterly craft.
Stefan: 'I knew of Serge Clémence from magazines, demos and large bonsai exhibitions. I had found a large beech in the mountains which was too large for me to lift, so I contacted Serge whom, I understood, specialized in large trees. I stirred his interest in the tree and later we lifted it together. Since then we have kept in contact through bonsai.

Once I knew him a little better, it seemed to me that he slowly moved away from the bonsai scene. He didn't do demos, magazine articles, nor was he seen at exhibitions. I missed his bonsai. For the sympathetic veteran of the Swiss bonsai scene, life was heading in the wrong direction. He suffered a number of personal setbacks, be they disappointments or health problems. But, like the best yamadori, which can survive rock falls, avalanches, damage from animals and disease, setbacks can make a man stronger in life and this, luckily, is what happened for Serge.
It all started when I did my first demo at the club and asked Serge, my friend and mentor, to come over to give me some moral support. It was great to see him back enjoying the show. This probably triggered something in him and I was surprised when he asked me to come over to his house to do a photoshoot and write this article for him about a mountain pine (Pinus mugo), a yamadori tree which he had dug up two years earlier.

I was looking forward to this and was happy when the time finally came. Serge welcomed me with his usual mischievous smile and said: 'Today we are going to start all over again.' After a short coffee break, we got down to action. Once my photo gear is set up Serge explains what he had in mind for the tree. He is a marvellous teacher and tells me his ideas and vision with much excitement and enthusiasm. After I took photos of all sides of the tree in its original state, nothing kept us away from the project in hand.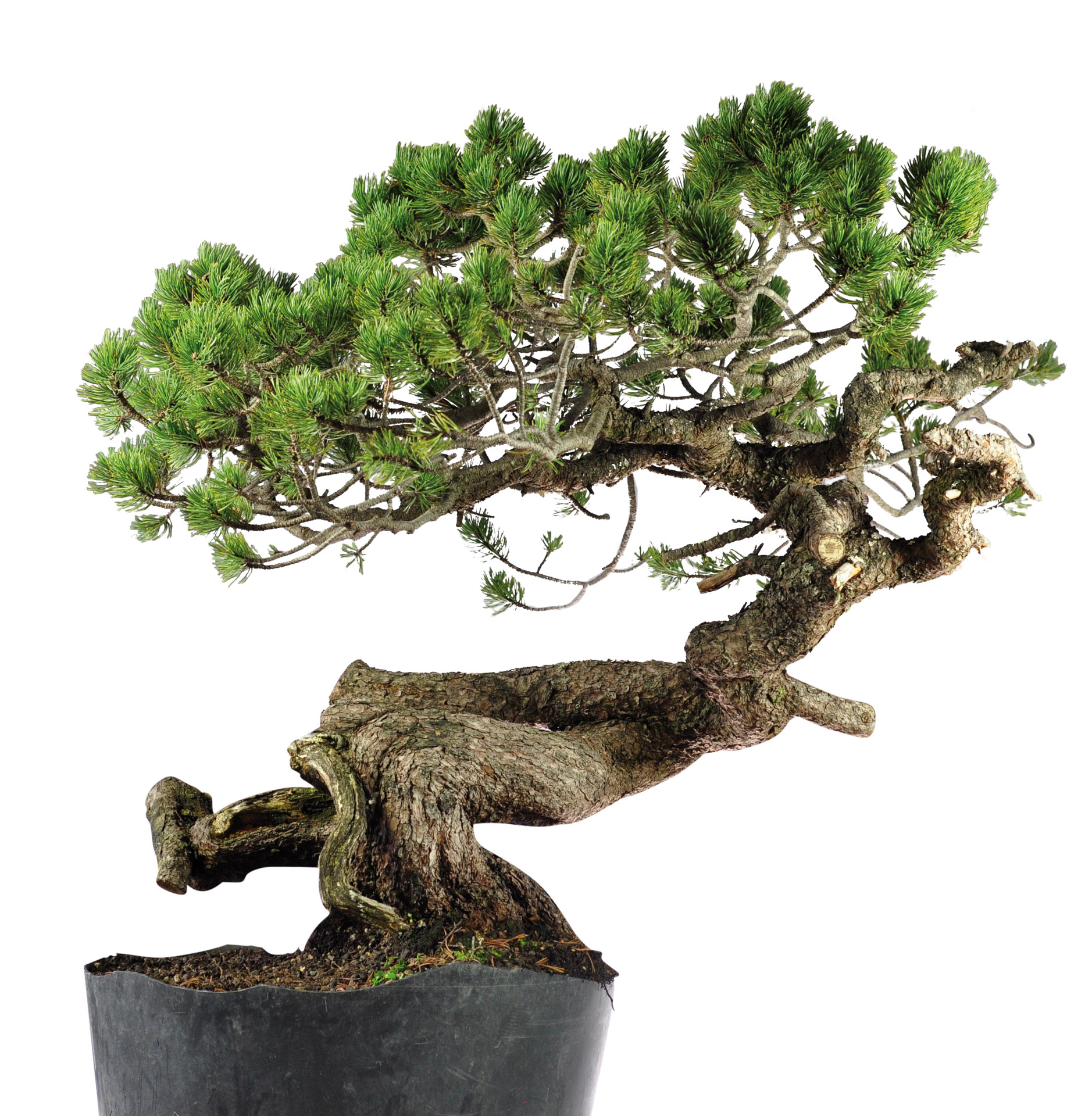 Foliage grown only at the top.
Interesting movement at the base.
Some stumps can be made into jin.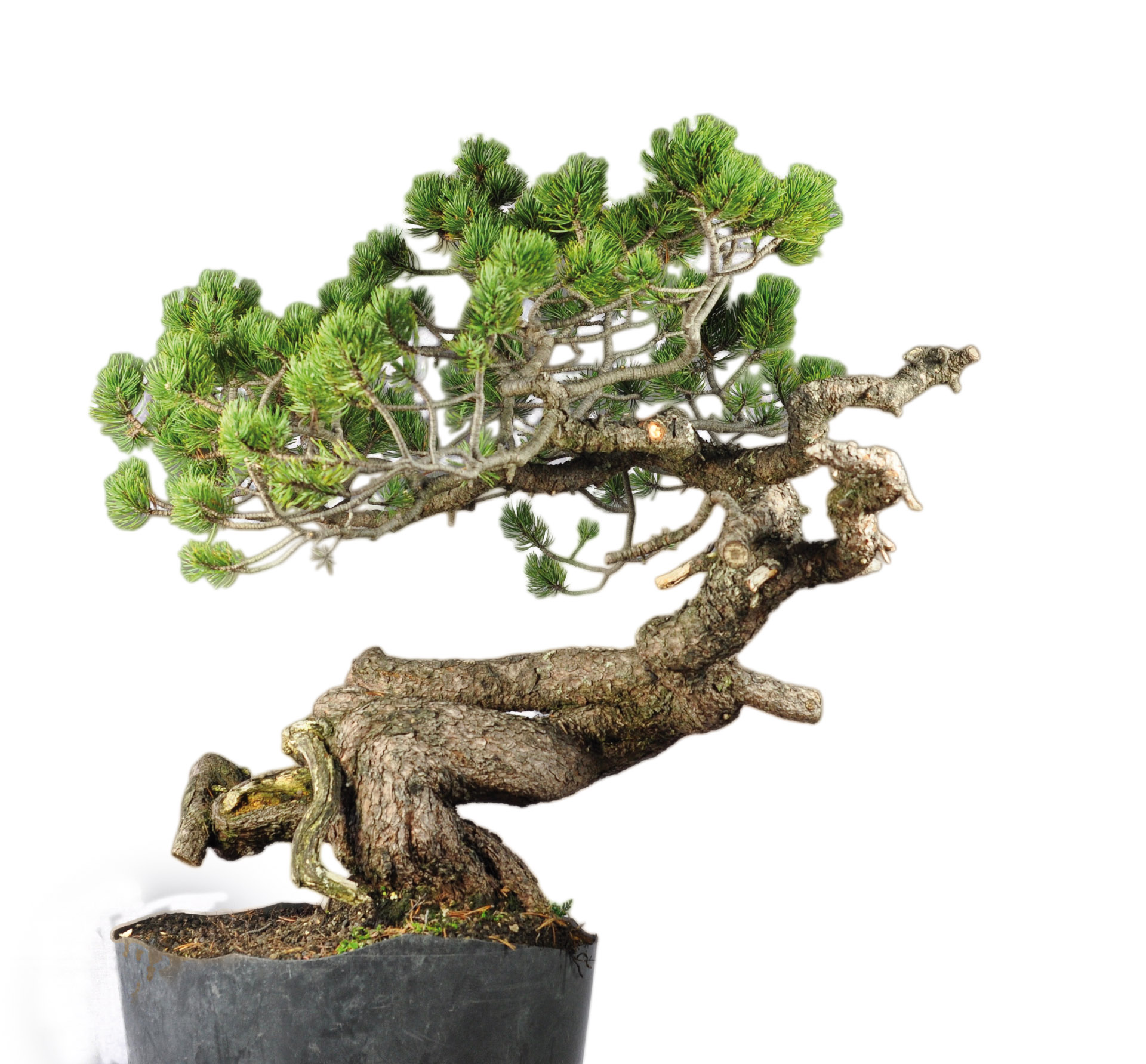 The tree just after removing the unnecessary branches. Some stumps are useful to make into jin; others (a, b & c) need to go.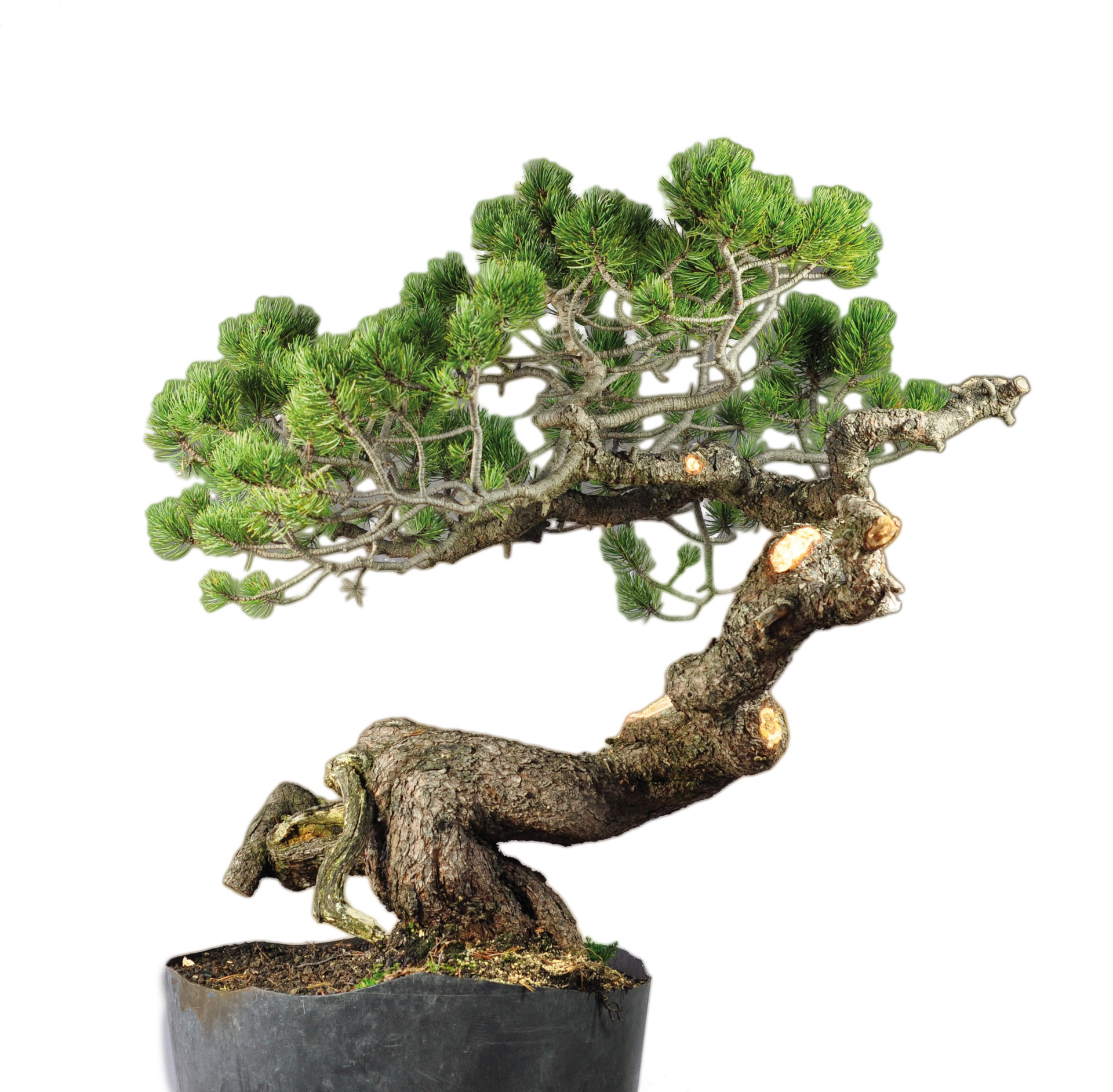 The wounds need to be carved too.
The wounds need to be carved too
After removing the stumps close to the trunk's surface.
The pine has many advantages, such as the elongated taper up to the crown, the many natural jin and shari, and the turns and movements of the trunk, the like of which can only be found in the high mountain range. Like most yamadori you need to deal with difficulties, too. All branches are located in the uppermost section of the tree. Serge now has to find the most appropriate way to style them without creating unsightly movements of the branches. Serge attaches a great deal of importance to ensure that his designs have clear, visible lines, that the tree has open spaces and that the important parts are emphasized such as the nebari, trunk line, shari and branch setting.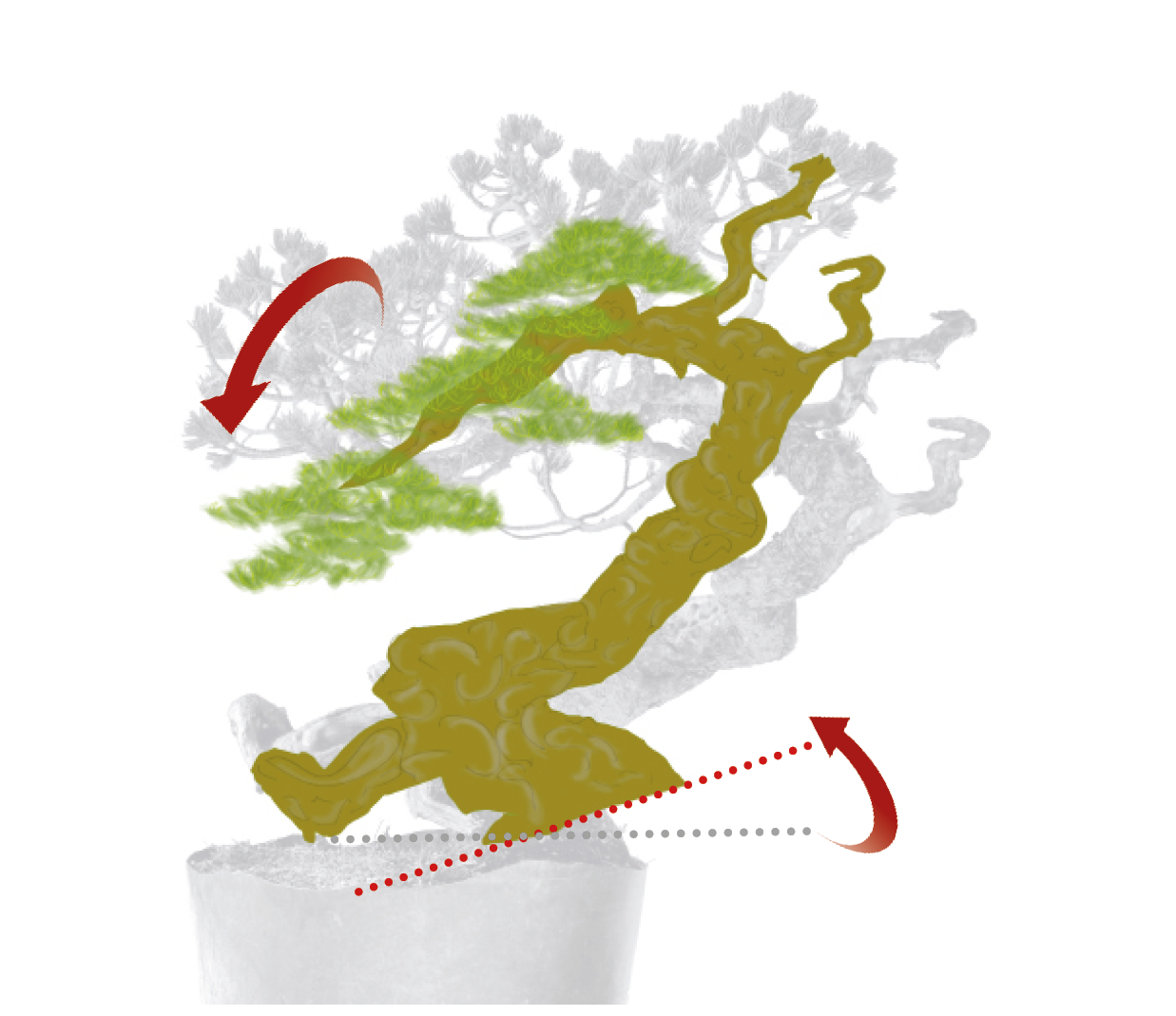 It lowers the main branch
By tilting the tree the jin is situated towards the top
Tilting the tree to the left
Some time ago Walter Pall visited Serge's garden in Switzerland. Here are some of his trees, all of which he has collected himself. Some of them are projects in the making.