The Sardinian coastline consists of numerous small beaches embedded
in outstretched tongues of land. No wonder this Italian island is so popular among the tourists. But if you can make the effort to travel inland you will soon discover its majestic scenery and breathtaking vegetation. Using two examples, Salvatore Liporace will demonstrate the beauty of the cork oak, which is so typical of this landscape.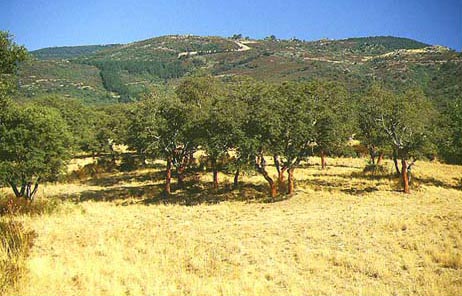 The rustic cork oak has a very distinctive character, though it shows an unexpected willingness in the hands of a capable bonsai artist. These pictures display only a small part of this tree's immense diversity of form. Here we follow the development of an Italian yamadori, on which much preparative work has been done through the years. The tree has potential to become a master bonsai in the future, although it has some major faults according to the classic rules of bonsai. A reverse tapered root base, an ugly cut trunk or missing branches — all are part of the charm of the cork oak.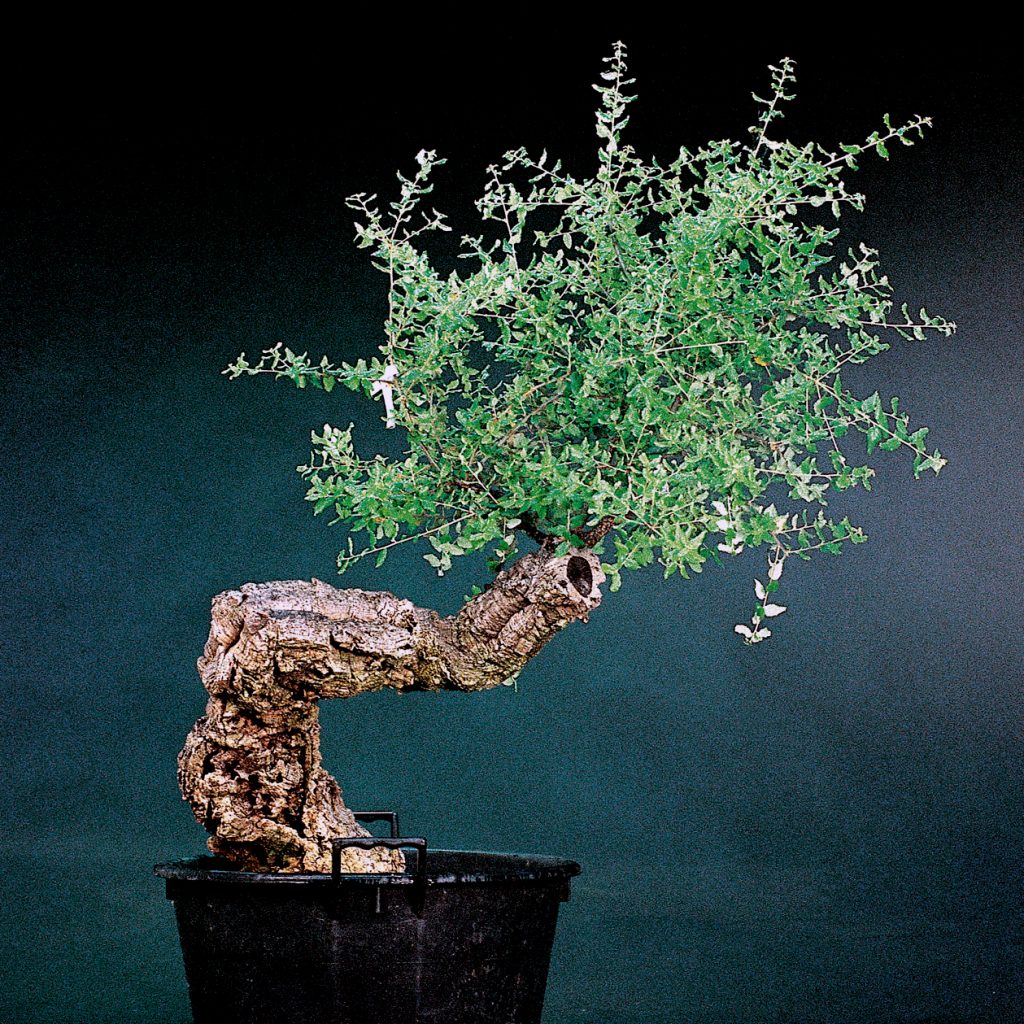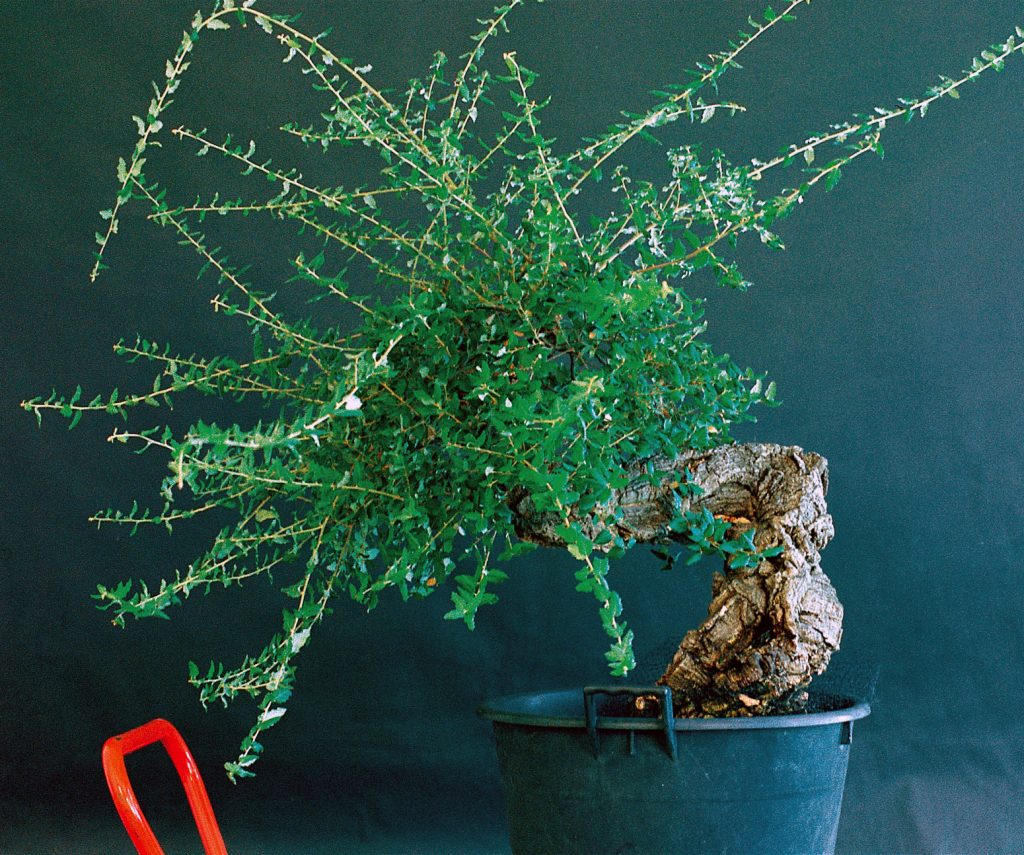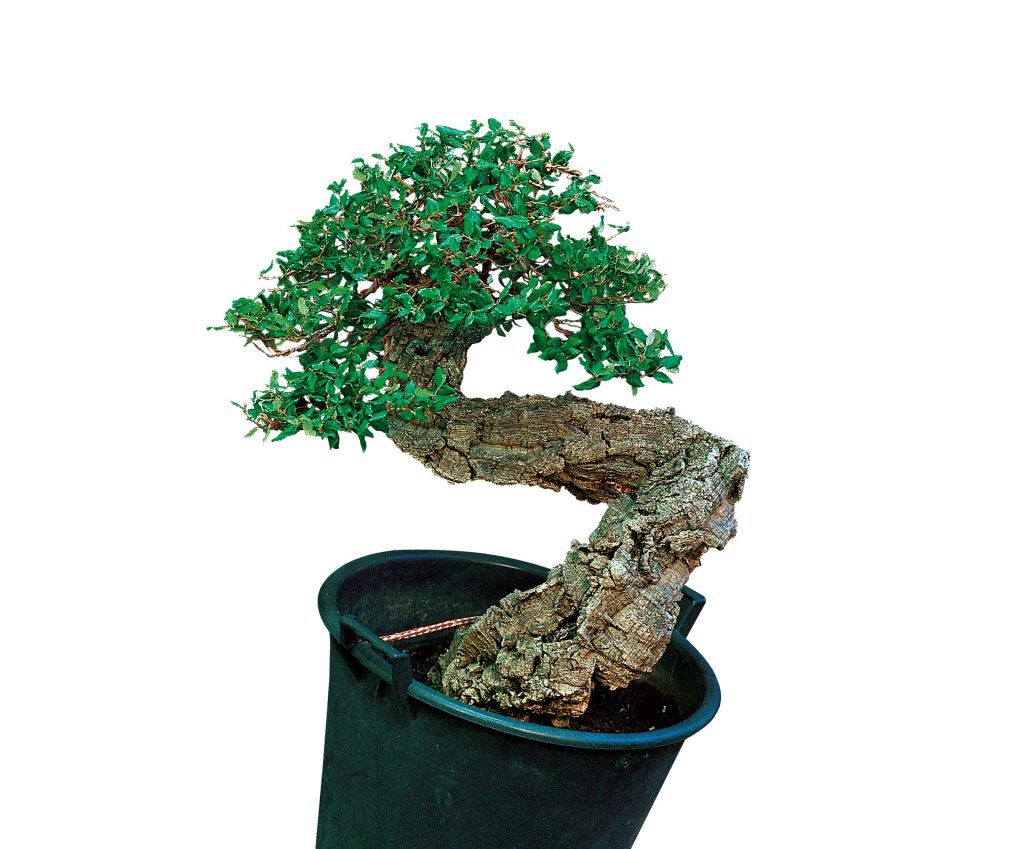 1 & 2: Wiring: Salvatore has wired the cork oak, superfluous branches and twigs are removed and the foliage is nicely divided. In this way he has put space and volume into the original disorder.
3: Future image. This is how the tree will look in the future. Repeated and adequate pinching makes the foliage thicker and will give longer under branches — that's how the conical shape of a bonsai is revealed.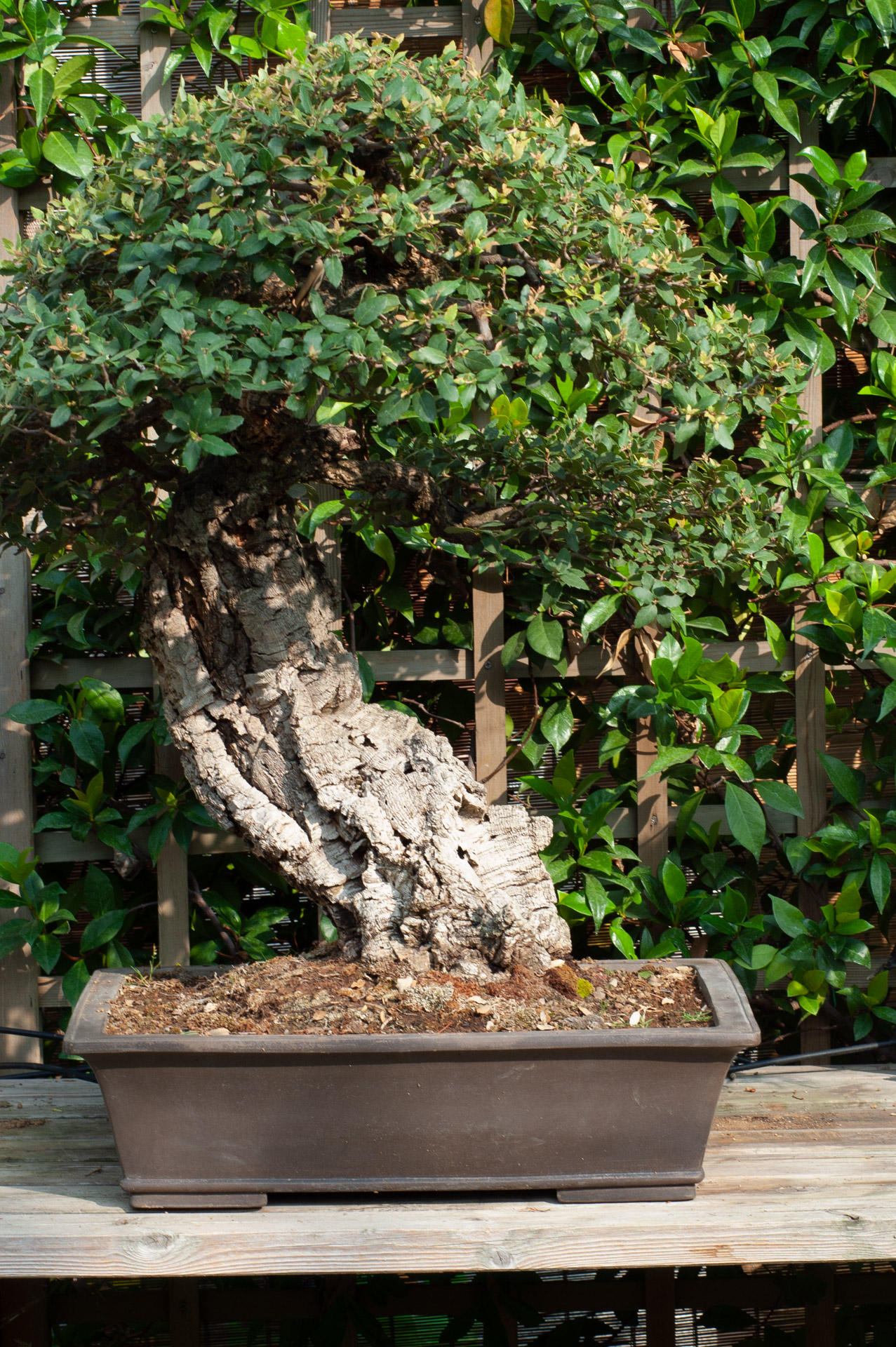 Good bonsai material
Oaks can be tough to keep; however, cork oak (Quercus suber) is happy to be a bonsai. When given plenty of fertiliser and full sun during summer, it will reward you with fast growth in its branches with leaves, which remain relatively small. The downside is that it needs good protection against frosts in winter and early spring.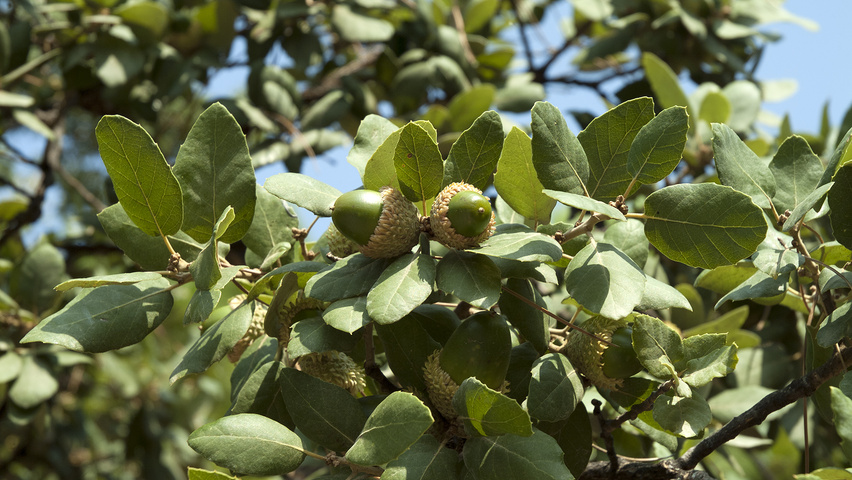 Oak – HUSBANDRY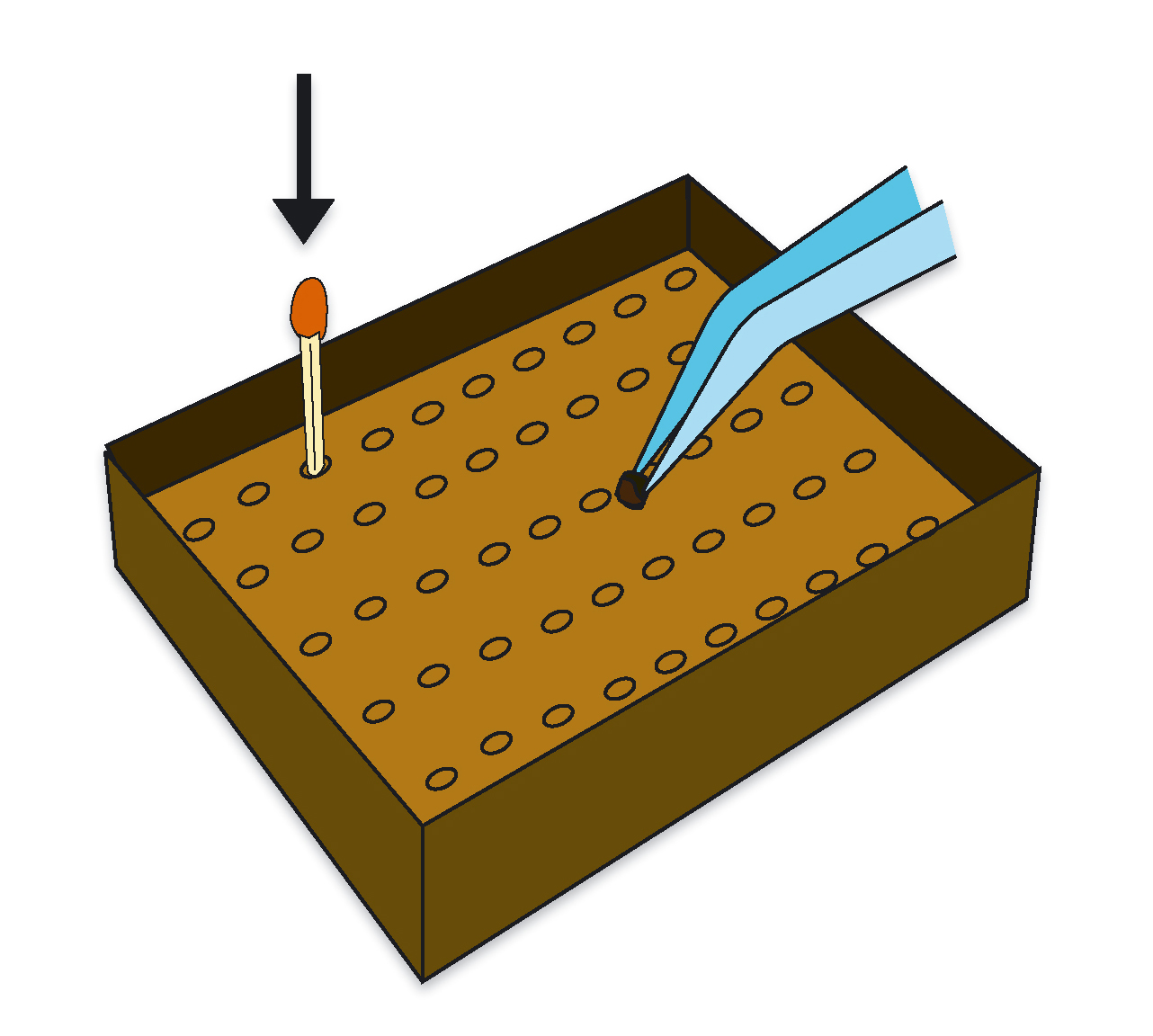 Propagate: With cuttings, or air layer, it's rather difficult though.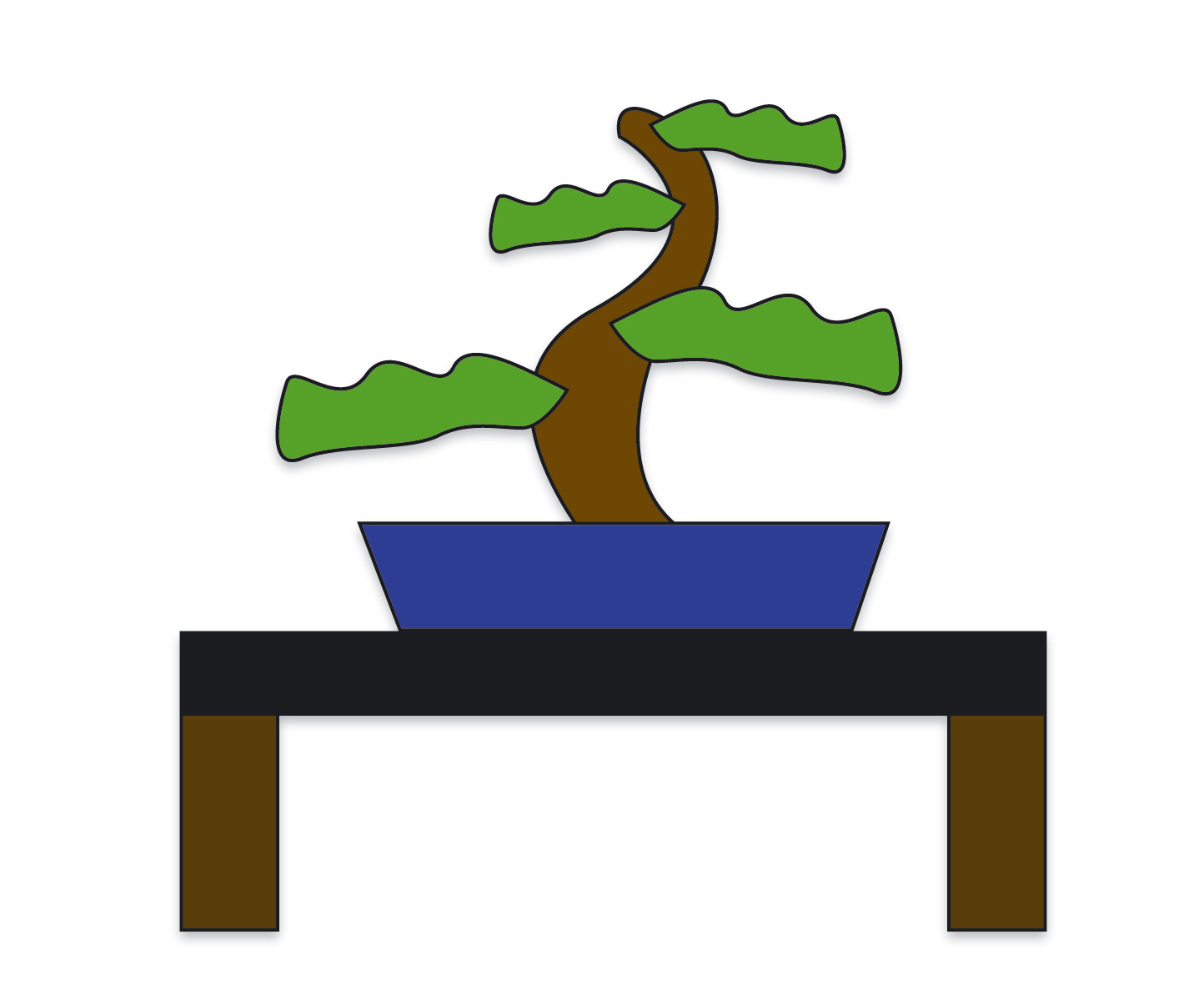 Placement: Protect well from heavy freezing. Likes full sun and well-ventilated spot during the growing season. Protect from very hot sun, though.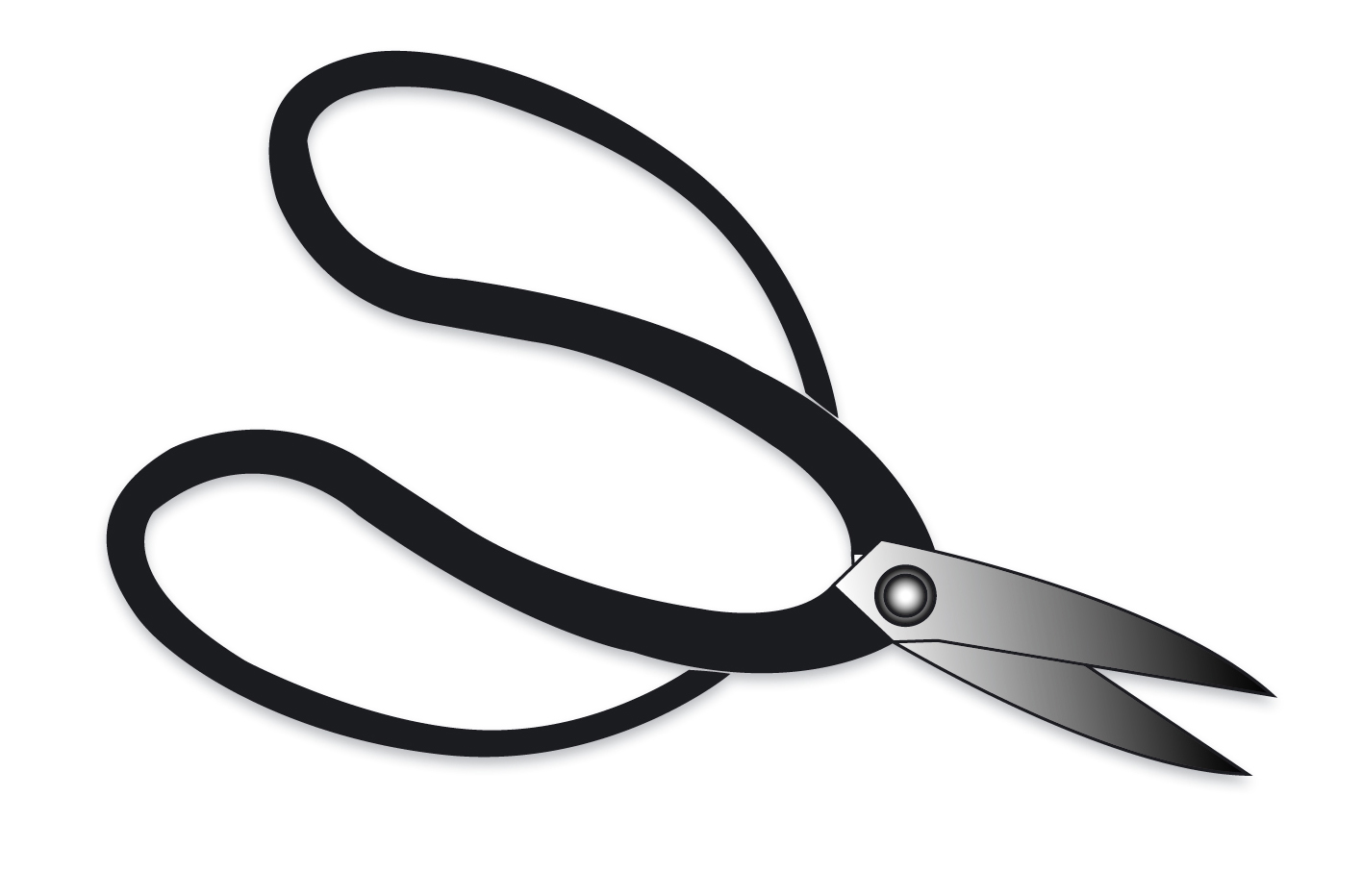 Pruning: Prune strong shoots to one leaf. Allow smaller side branches to develop first, then cut back to 2 leaves.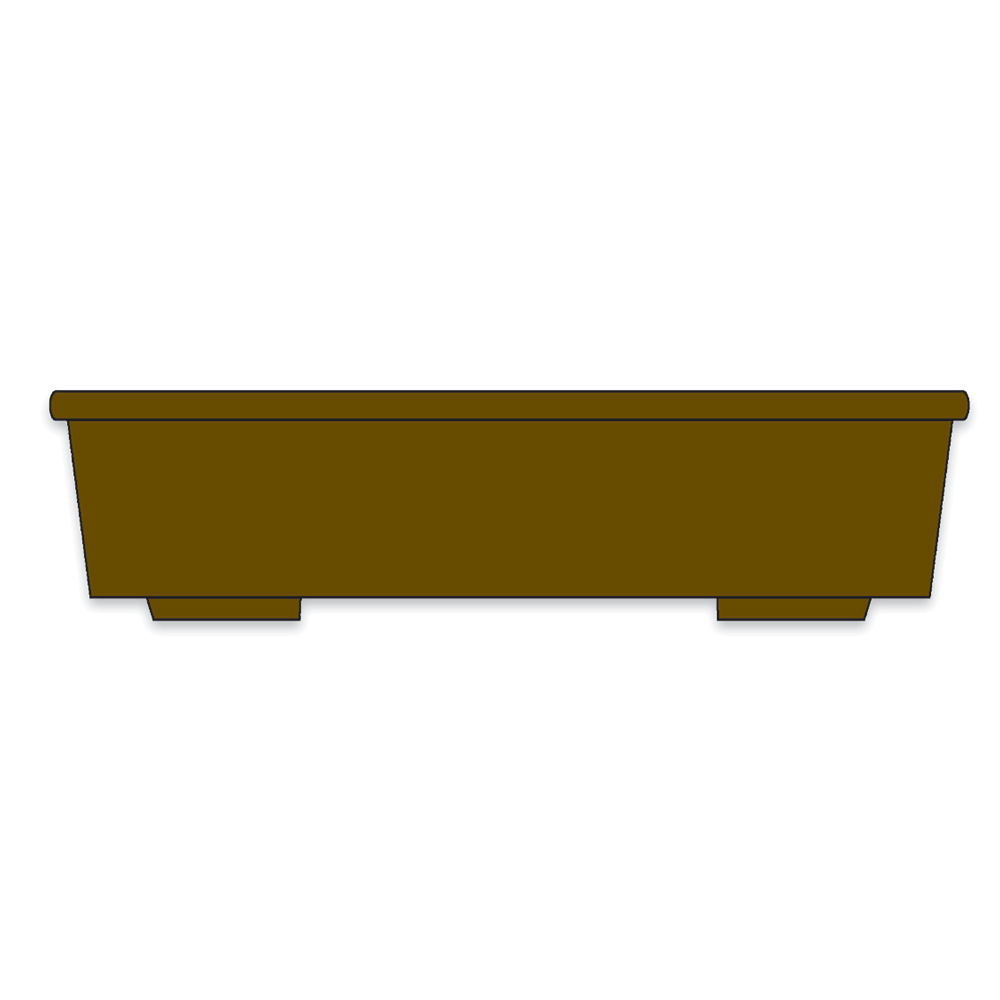 Repotting: Don't repot older trees frequently. Younger trees can be repotted every two to three years.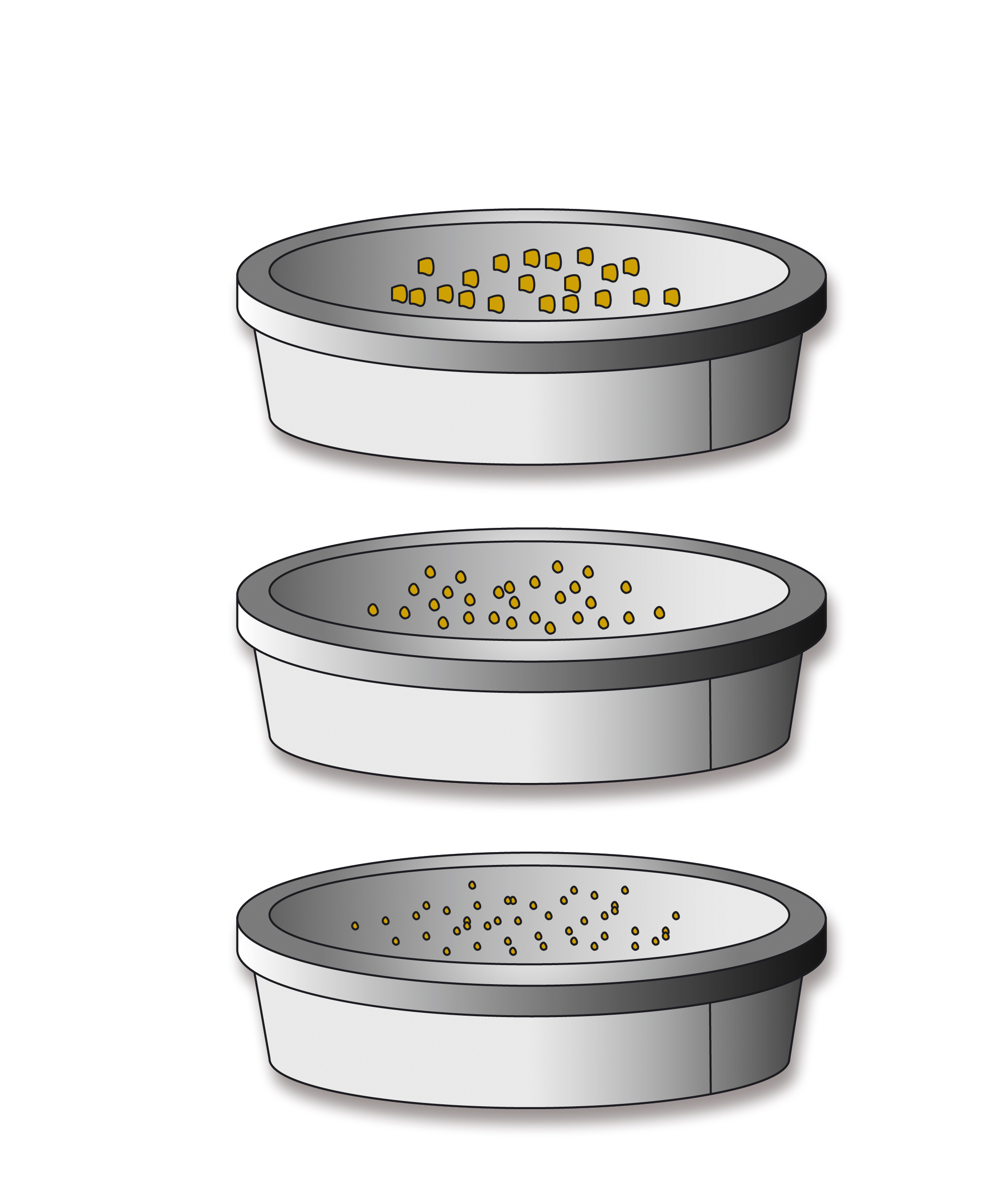 Soil: Use a mix of equal parts Akadama, volcanic grid and peat. It's extremely important that it has a well-draining soil mixture, because it likes water, but does not want its roots too wet.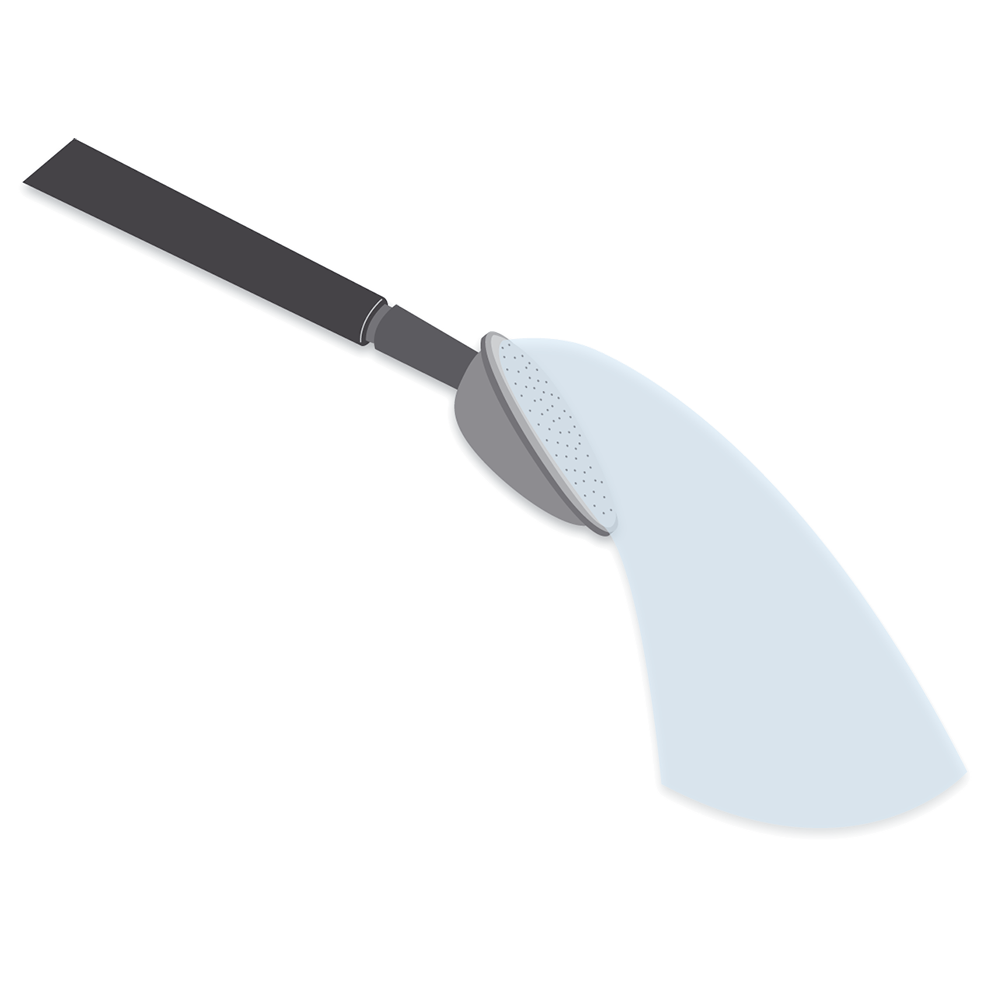 Watering: Likes moist soil throughout the year. Rainwater is best, but any clean water is fine, too.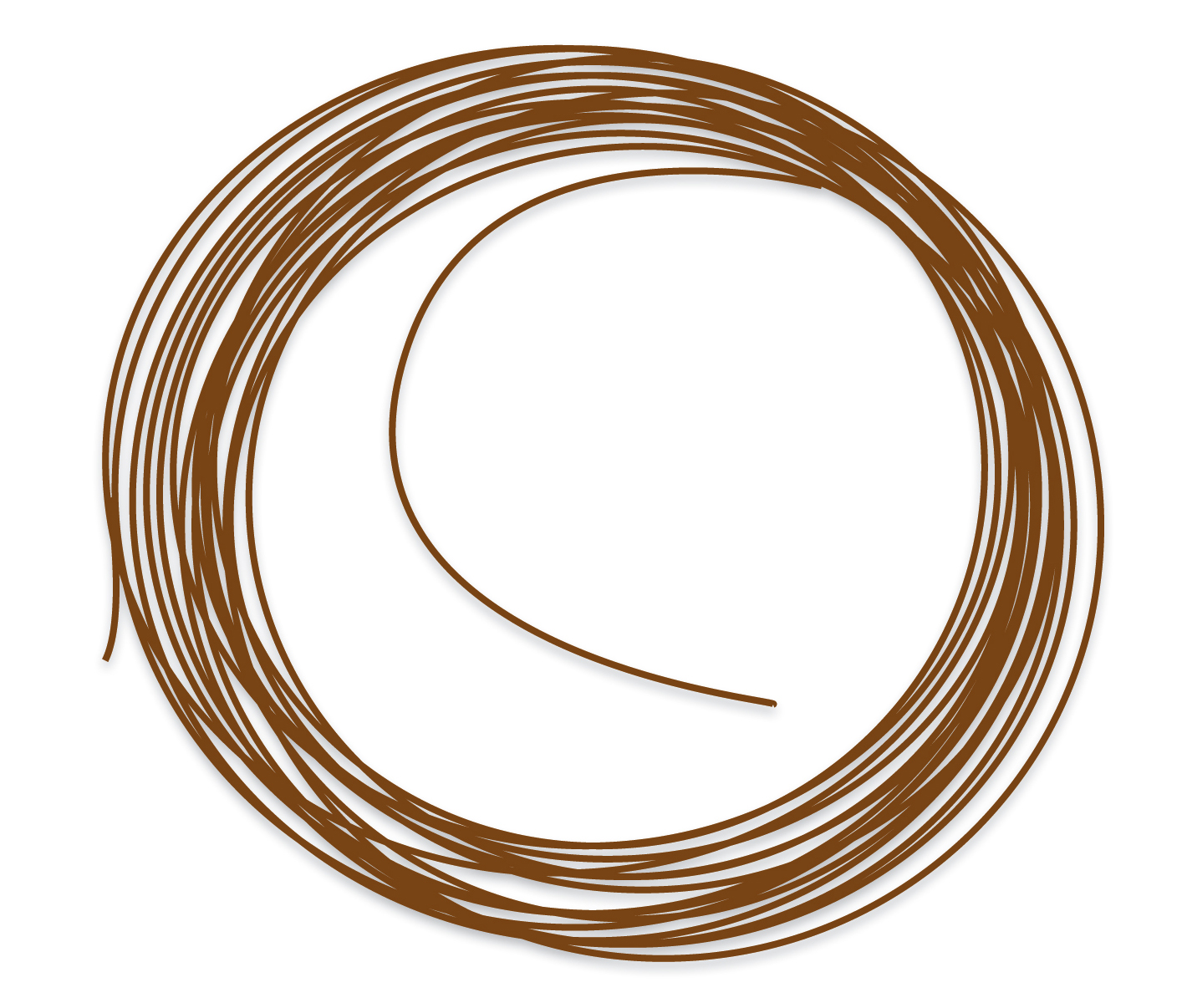 Wiring: Can be wired with care; best done in spring. Older branches can easily snap so be cautious. Wiring during summer can cause some damage. These branches don't thrive very well in the following spring. Copper wire is not a problem for this sturdy tree.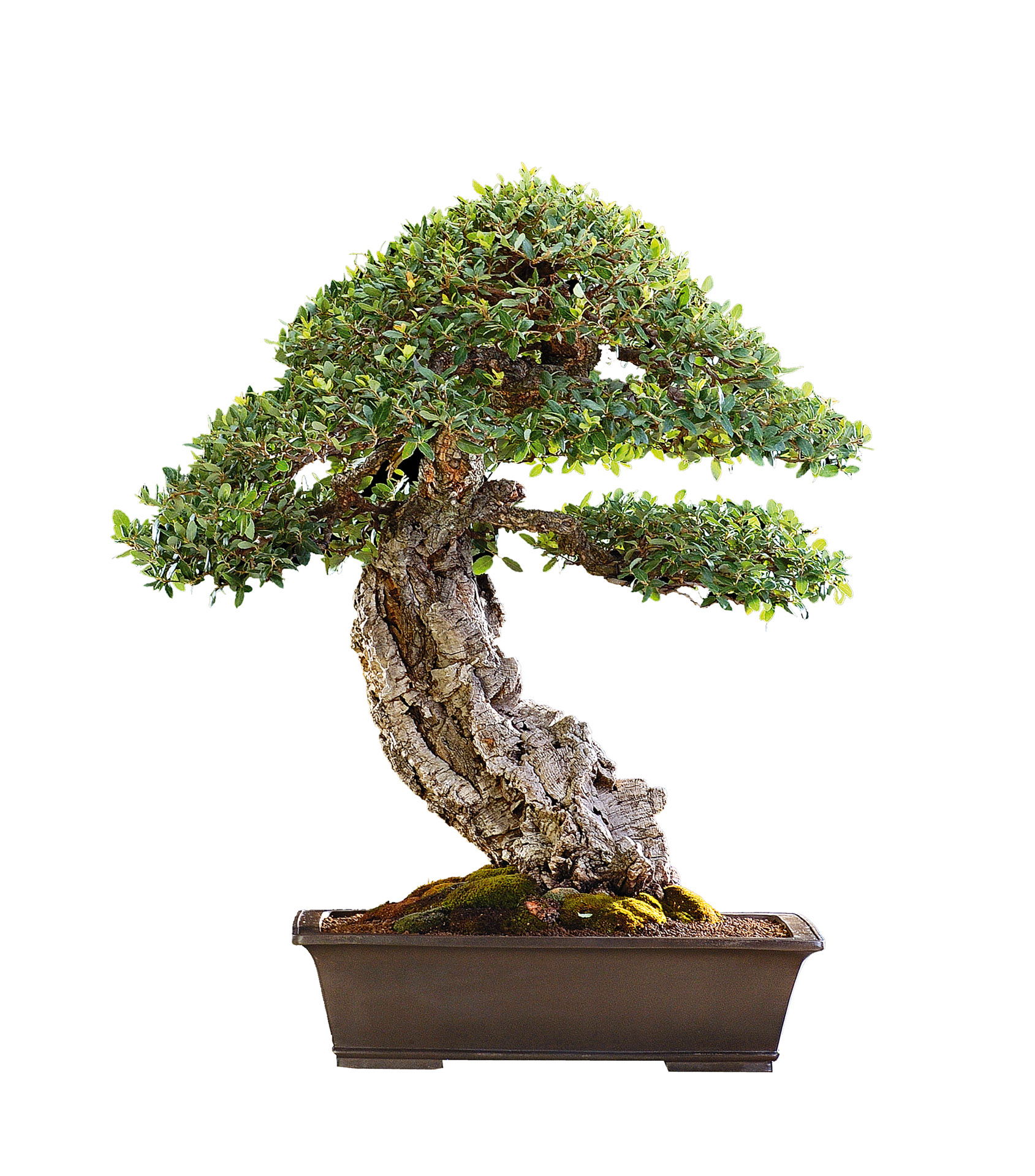 Humble role
Only Mediterranean varieties can mature to such majestic proportions
as seen on Sardinia, and this has much to do with the temperature
and wind. Some say that cork oaks tell stories of centuries past to those
who can appreciate their qualities . Its name derives from the thick layer of bark, or cork, as we know it, which make whimsical patterns around the trunk. For centuries the
tree's humble role was to serve as supplier of cork to the wine industry; but since bonsai enthusiasts have discovered its suitability its image has been greatly improved.
An Oak with a bold trunk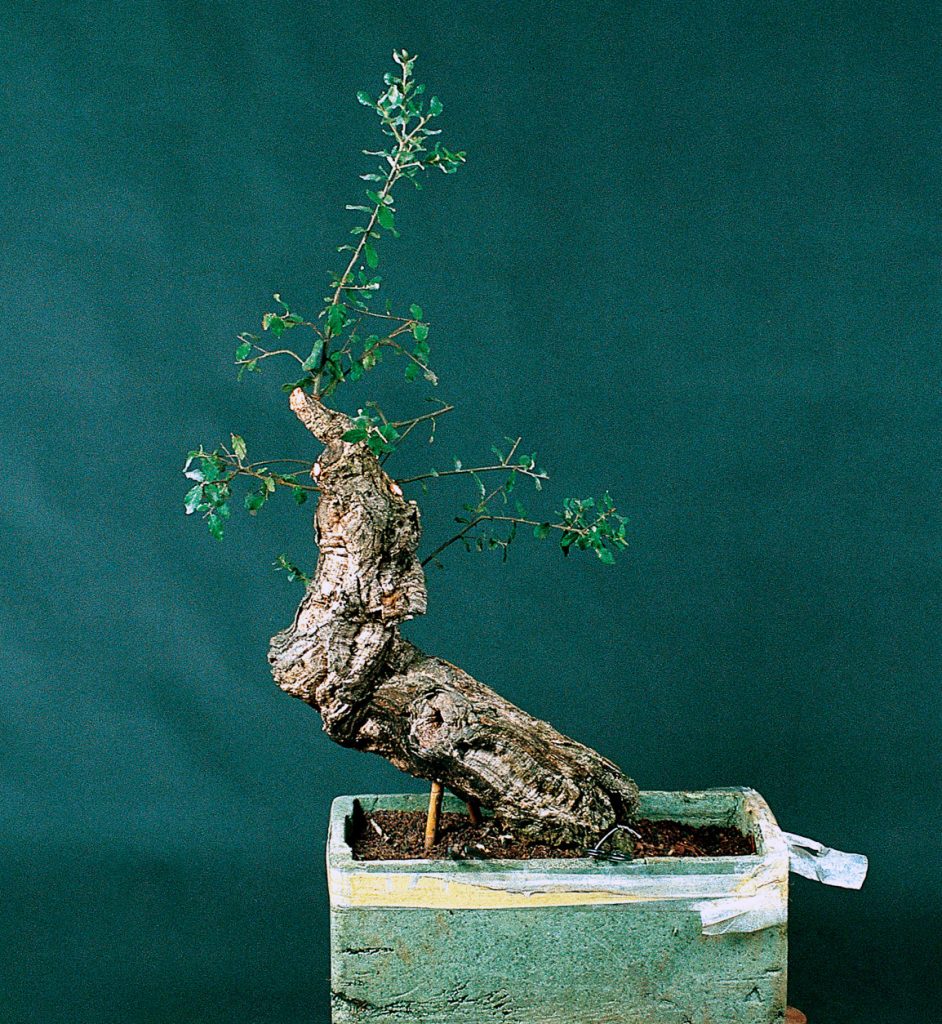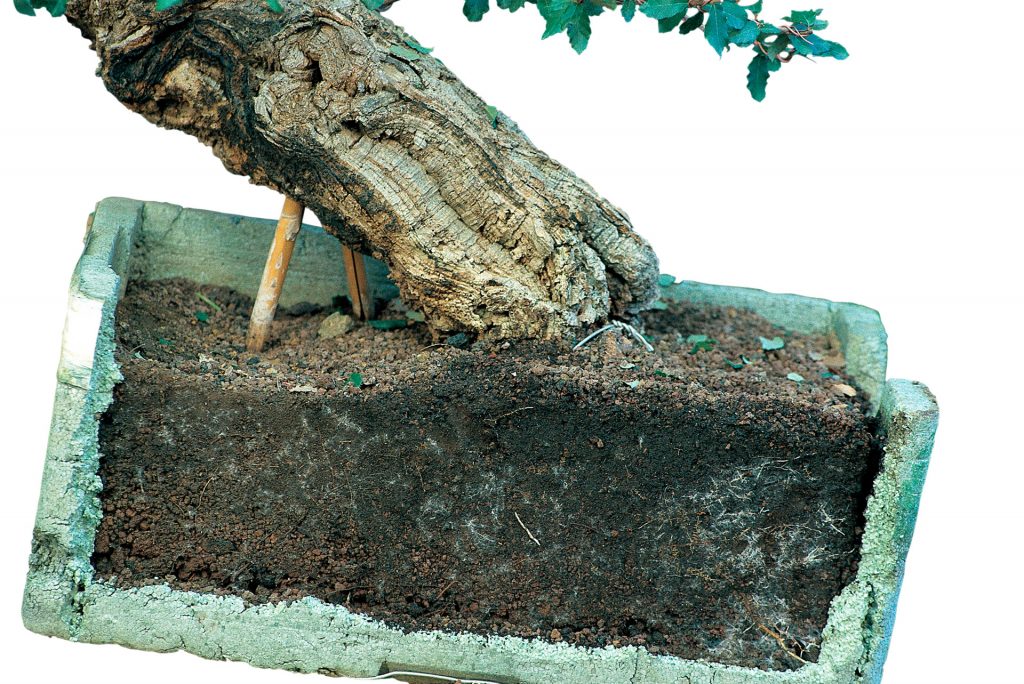 Repotting: Healthy, powerful growth shows that the tree grows well. Now it can be repotted, but that is a risky business. The fibrous roots of a cork oak are very vulnerable and these were in a badly draining foam box for all that time. Very, very carefully the tree is lifted out of its box. After this liberation the root base will be cleaned from the compacted soil, which is mixed with rough pieces of pumice stone. This is done with chopsticks, because combing the roots will damage them too much. Finally, the tree is placed in fine, breathable Akadama.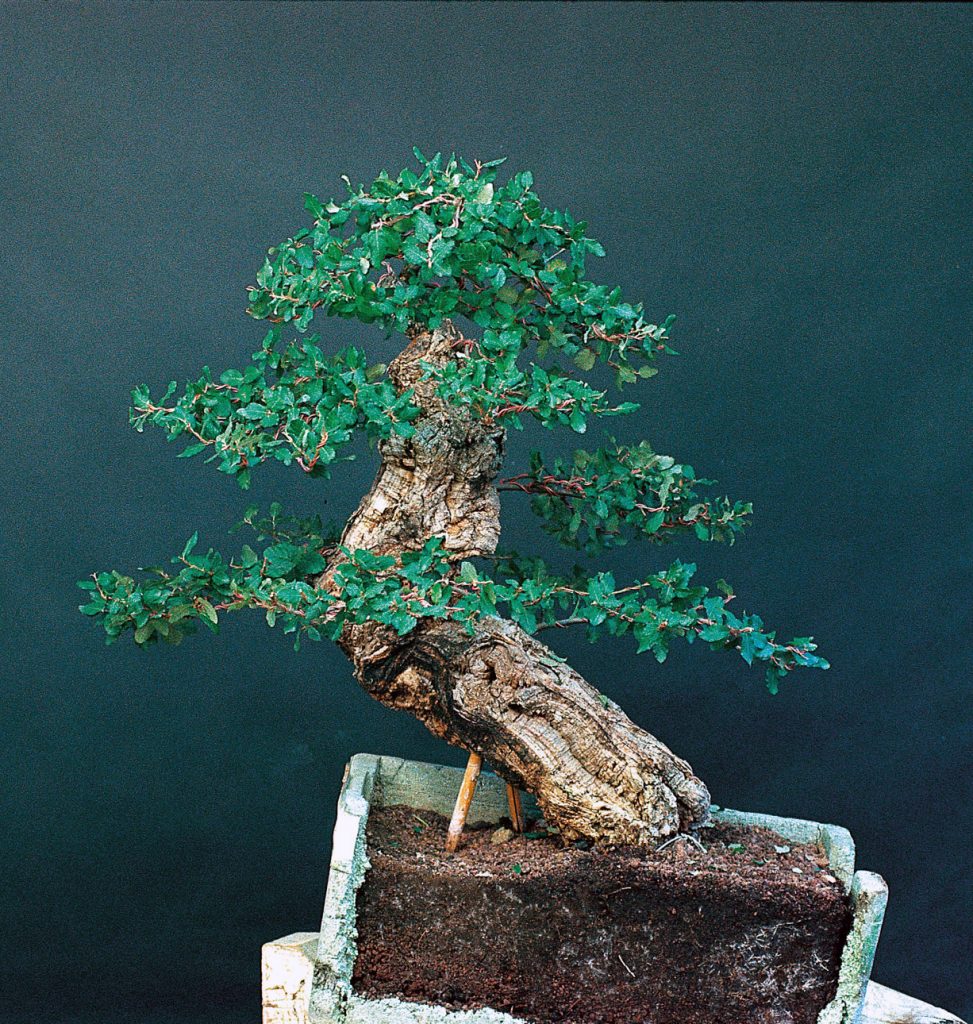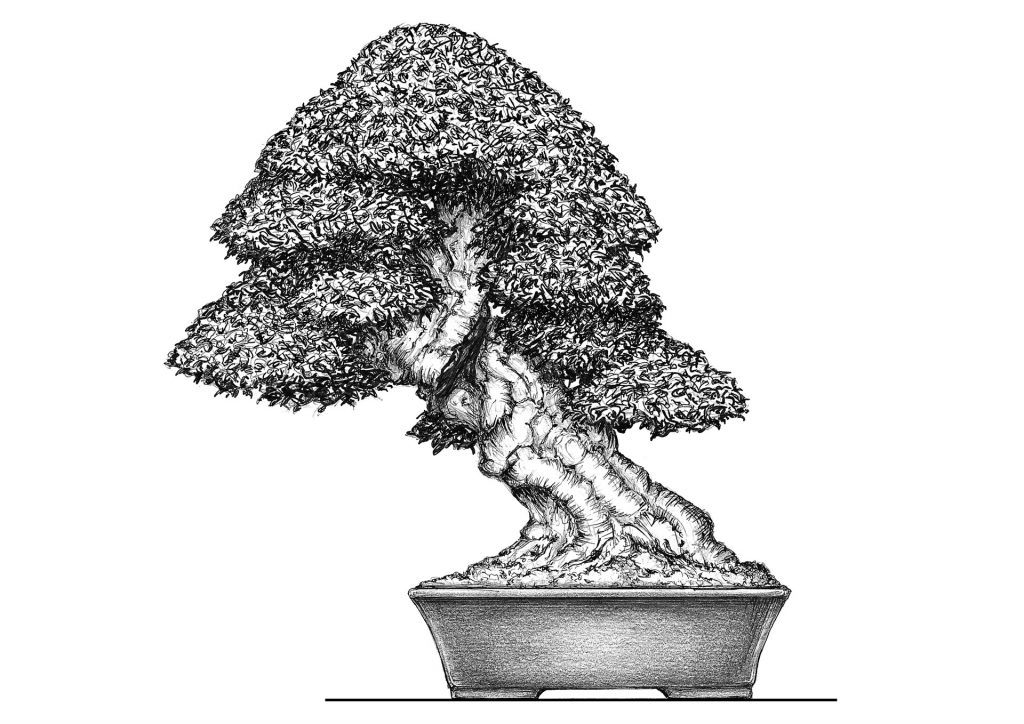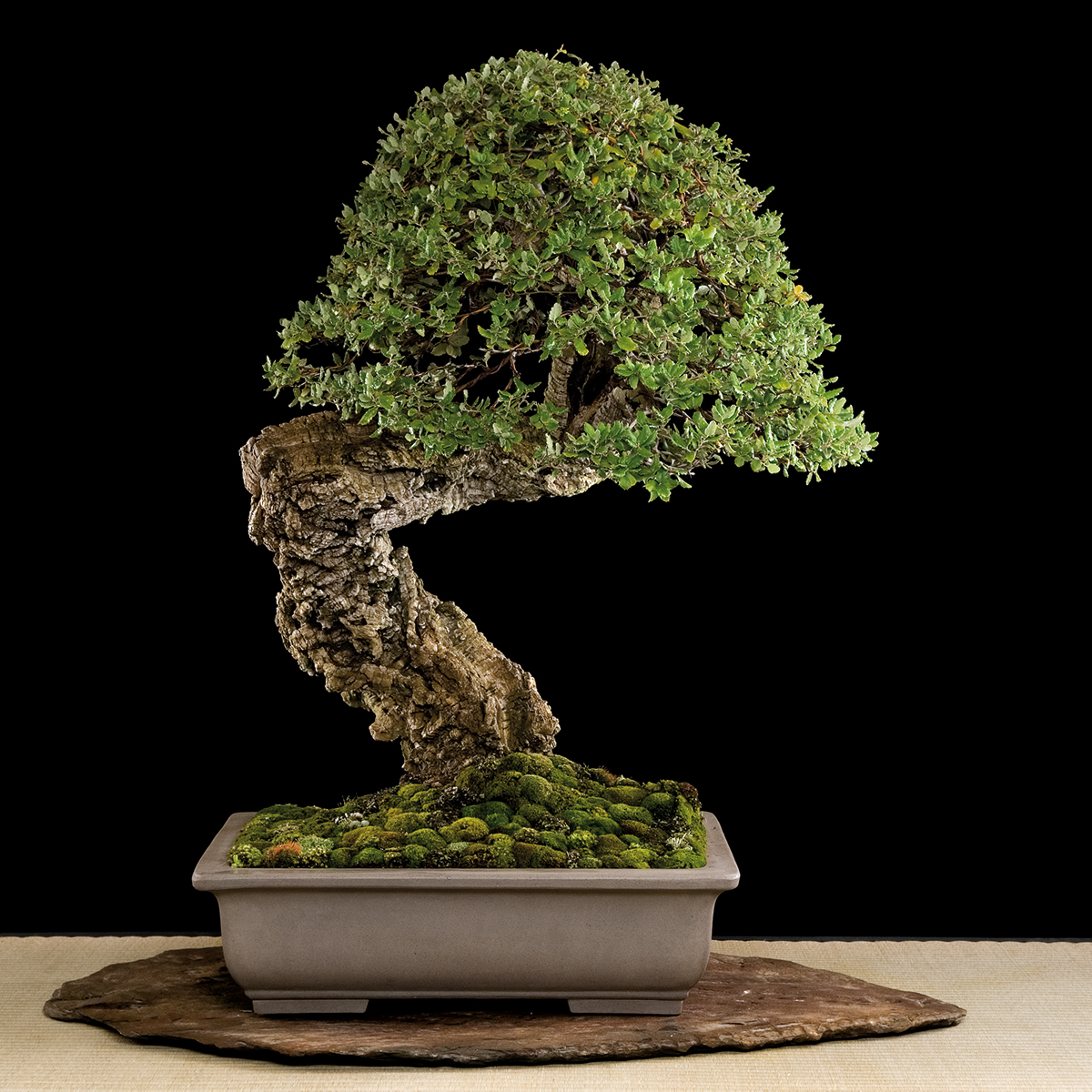 Beech family
The cork oak inhabits the whole of the Mediterranean region, from Sicily
through to Tuscany and from Tunisia and Morocco to the South of France. The species is 'evergreen' and is part of the family of Fagaceae (beech). The cork oak can reach a height of 20 metres and from its bent trunk — which can reach 1.5 metres across — grow bendy branches, which are also covered with the corky bark. The foliage on the outside of the tree is dark green and in the deeper parts becomes covered with white pubescence.
The leaves are oval, smooth or crenated. The tree is bisexual and blossoms in April and May. The male flowers grow in yellow, hanging plumes, the female are placed right under the 'armpits' of the leaves. The fruits are 2-3cm long and are shaped like an acorn sitting in an elongated scaled cup.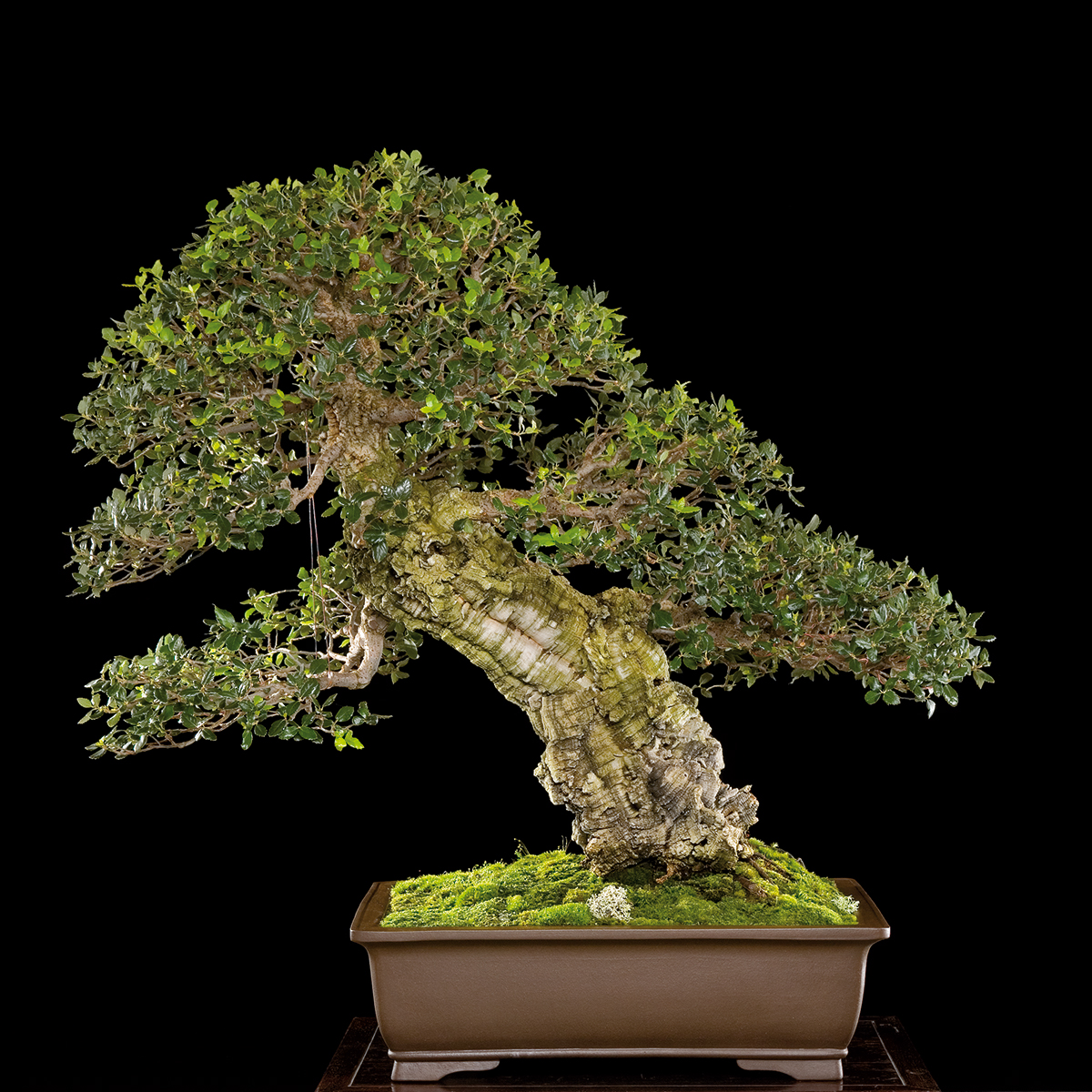 The tree grows best on rocky soil in Mediterranean forests and undergrowth,
but drier, colder areas are also suitable from sea level to a height of 700 metres, where there may be a light frost. Nevertheless, be careful when you dig them up, or with recently styled cork oaks. In sudden heat water them frequently and in the winter put them in a cold greenhouse, because they can't stand a harsh climate. Although the trees are grown in large numbers, a true aficionado chooses a yamadori lifted personally. Unfortunately, those are very rare.
Valuable characteristics
The most valuable characteristics of the cork oak are the curled trunk and branches and the capricious bark. It doesn't need to be said that this is the result of dozens of years' survival in harsh conditions. The lifting of the species will cause some problems.
The sensitive root base exists mainly because of very tender fibrous roots; as a consequence of this, the tree can develop growing problems. As said earlier, regular watering is of number one importance for the tree's survival. On the other hand,
the tree is over sensitive to water that remains in the container or soil — arch enemy of the root base.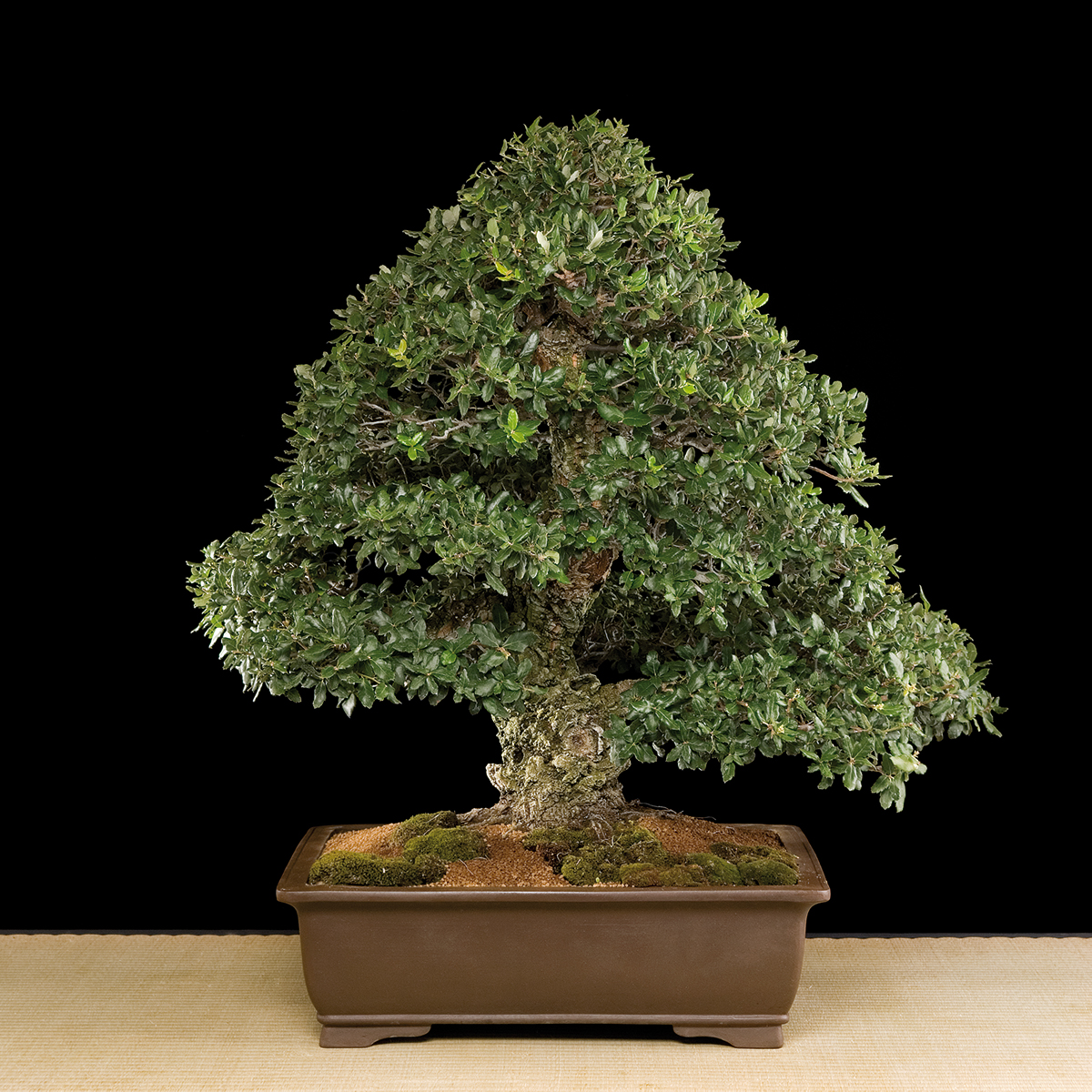 Place the tree in good draining soil — best is pure Akadama. On the bottom of
the container put a coarse soil or one that is slightly less coarse.It's best not to
use Fuji sand; it drains well, but at the first repotting you can get into deep
trouble trying to remove the soil from the roots. This will not be achieved
without damaging the fibrous roots.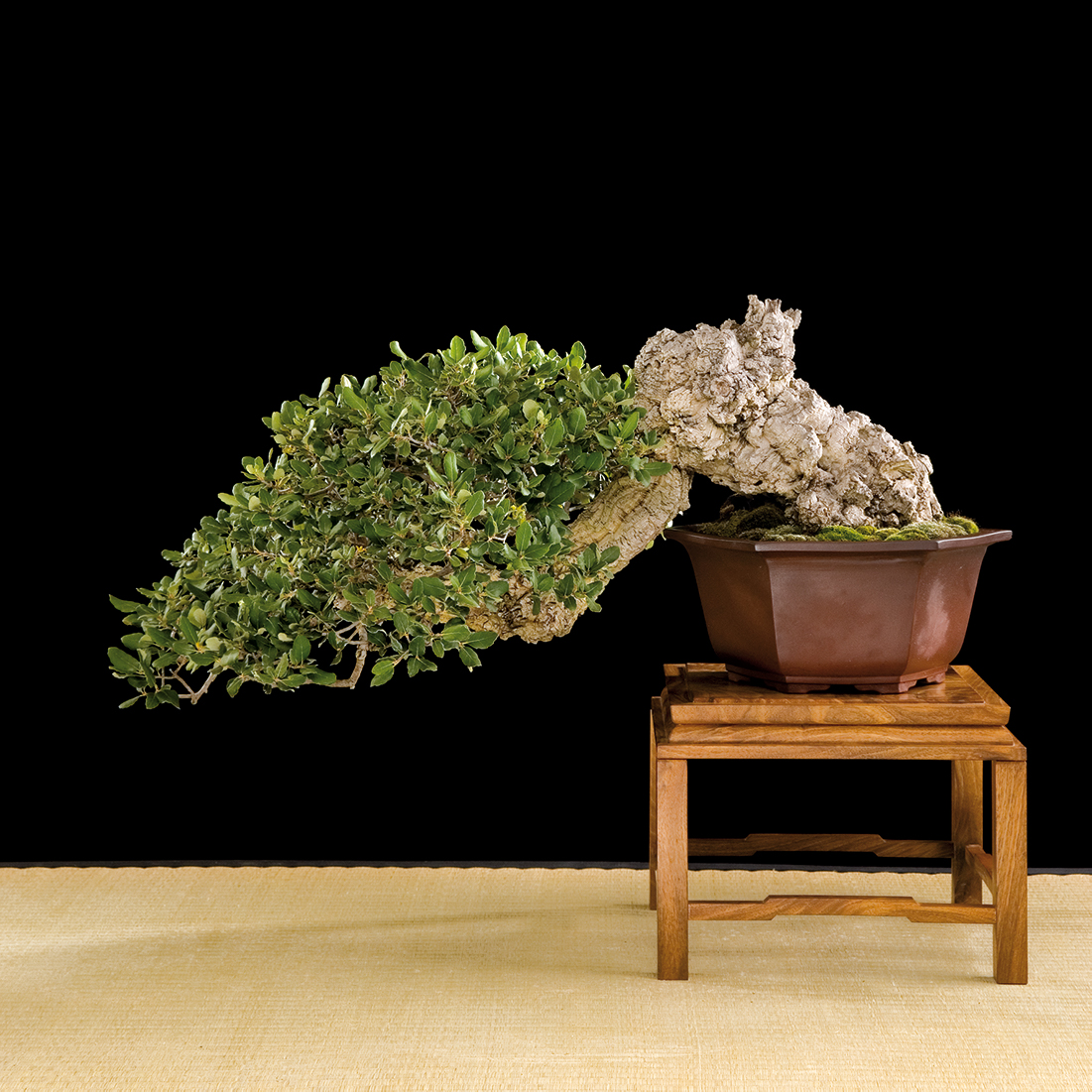 Fertilising and pruning
Fertilise in spring and autumn with an organic material, such Bio Gold. Pruning can and must be done during the entire growing season to control explosive growth and to increase budding on the old wood or bark. In this way, you can quickly cultivate new branches near the root base, but it is not easy to get nice steady branching.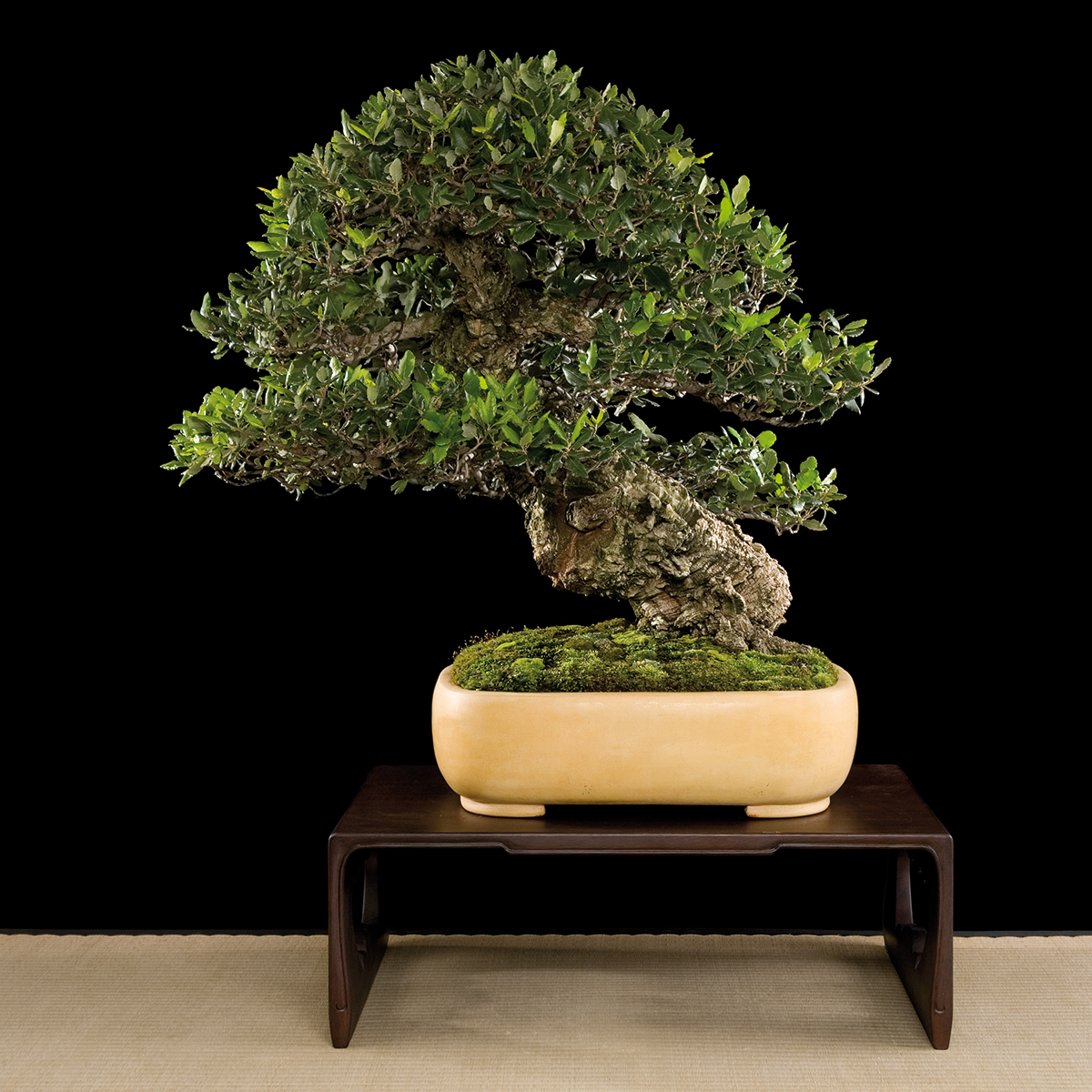 ---