Bonsai tools need TLC, too
In this new series we show you how to maintain your precious tools because, just like our bonsai, the tools also need tender care. To start off the series we focus on that most used of bonsai tools, the scissors. We look at the types of blade and how to keep them sharp. We also bring you a little history as well
Types of pruning scissors
There are several types of scissors depending on the thickness of the branch you wish to cut. Thicker branches should be cut with heavier branch pruning scissors. For finer work such as candle cutting or leaf pruning, suitable thin-bladed scissors should be used. For cutting thicker branches, branch cutters or concave cutters are best. Other tools include trunk splitters, root pruning scissors and wire snips. 
All of these will be introduced in this series. There is great variation in the materials, the size and price of pruning scissors and if we looked at each type we would become lost very quickly! The most important thing of all is to pay attention to the type of scissors you use and what they were designed to do. Elegant, thin bladed fine scissors are designed for leaf pruning or candle cutting whereas thick-bladed strong scissors are designed for cutting branches.
The angle, thickness and strength of the blades differ greatly for each type. The same type of scissors can be used for similar work, such as leaf pruning and candle cutting. It is, however, difficult to use candle cutting scissors for branch pruning and vice versa. Beginners should own a pair of branch cutting scissors and a thinner pair for delicate work. This will be enough for most work. Once you begin to think that they are insufficient a new, more specialised pair can be purchased.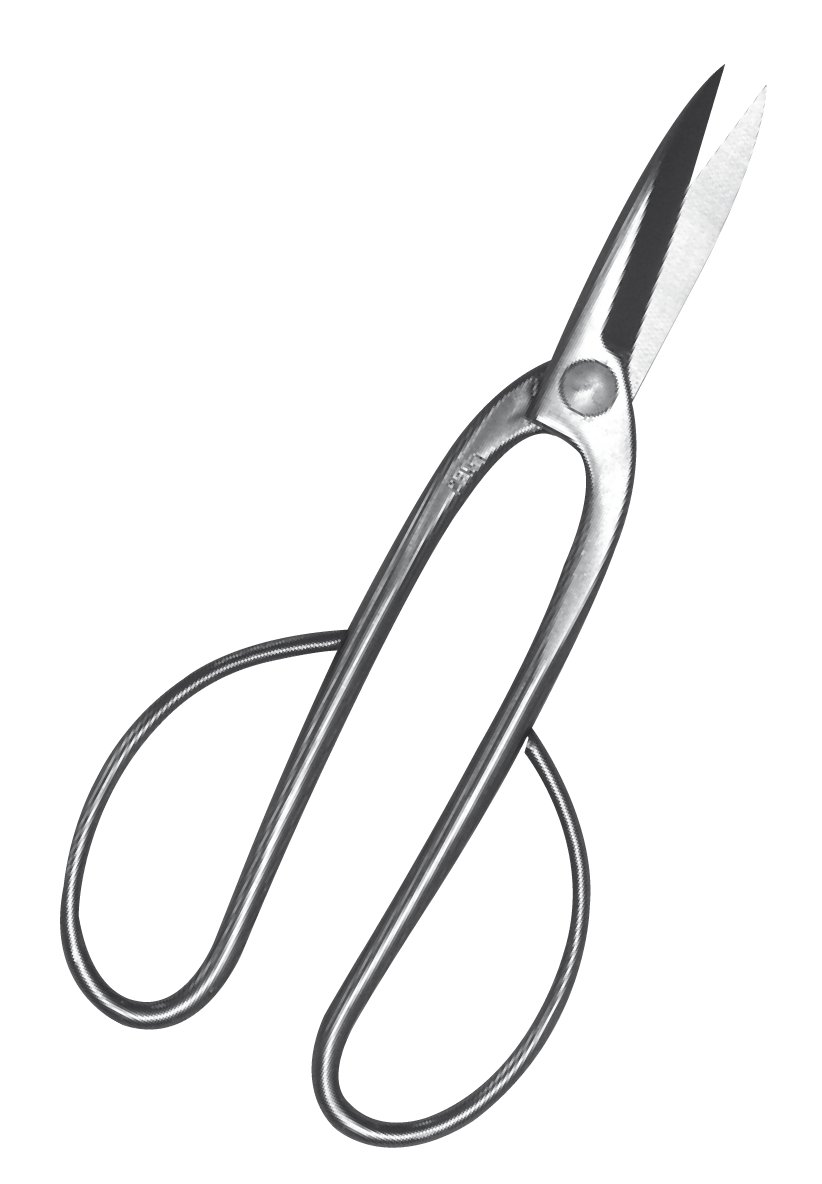 Seikou brand
Stainless steel alloy, 20 cm / 7.9" long — a popular type of all-purpose scissors. This pair does not meet perfectly at the end and it is impossible to cut with the tips.

This type is suitable for cutting branches to a thickness of around 10 mm. If a thicker branch of around 2 to 3 cm is cut the blade can often become damaged and they are difficult to use. Thicker branches are best cut with branch cutters or a saw.
Pivot
The amount by which the two blades overlap can be adjusted here. If the two handles/blades become loose through repeated use, place the pivot on top of an anvil and tap with a hammer.
Depending on the type of scissors, the pivot may be a screw in which case it can be tightened with a spanner or screwdriver
Hand hold
Larger sized hand holds allow the tool to be used with either left or right hands. Choose the scissors that best fit your hand
Small branch scissors
Seiko brand, pure steel, length 12 cm / 4.7", a typical pair of scissors. The blades are much thinner and the smaller angle makes them suitable for fine work such as candle cutting or leaf pruning.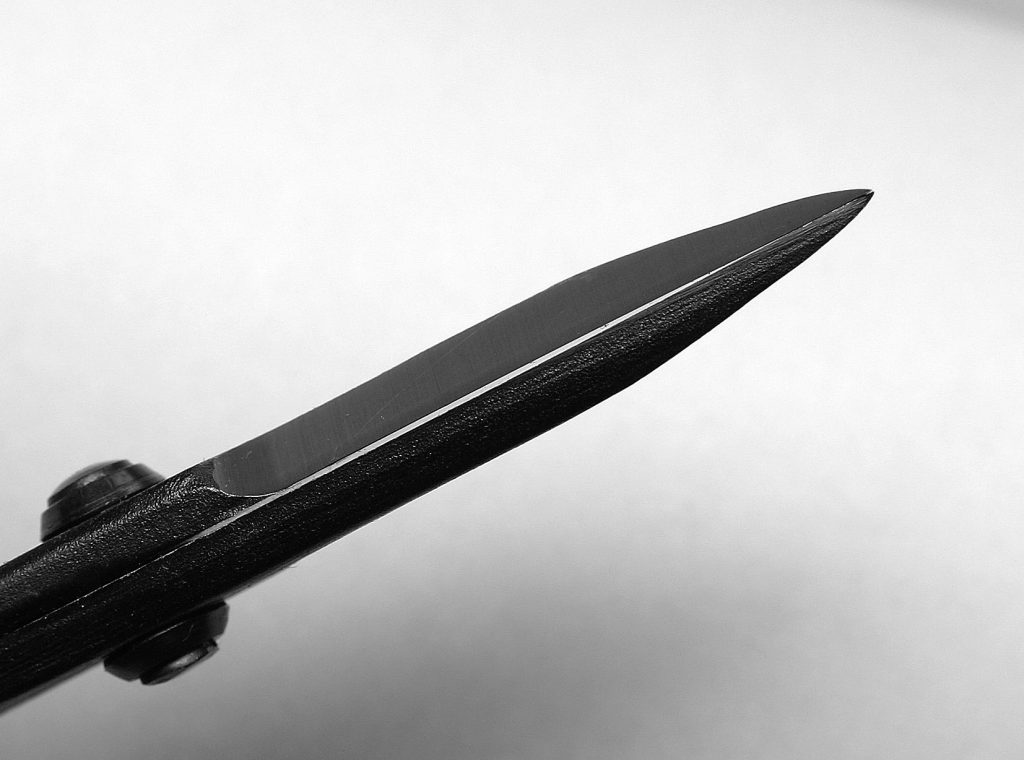 The blades are seen here from the side. You will notice that there is a tiny gap between the two blades. This is perfectly normal. When the blades move through their cutting motion, they will not grate against one another. This is so that the cutting blade isn't damaged.
Simple way of removing resin and rust
The method used is the same as for sharpening. Firmly push the blade while maintaining a flat edge. To sharpen the blade, work only on the outside edge. The flat inside edge should only be worked on to remove burrs or rust. Normal scissors should have a completely flat inside surface, so it is not necessary to sharpen it.
A brief history of bonsai scissors
Until the Meiji period, the tools used by bonsai craftsmen were the same as those used by gardeners. They were rethought and improved for specific bonsai use in the Taisho and early Showa period (1920-30s) when bonsai began to prosper.
The origin of today's bonsai tools can be traced back to the first generation Masakuni (Kawasumi Masakuni, real name Shichinosuke, 1880 to 1950) who took custom orders from Akimoto Tsutsuji-en in Angyo, Saitama. The initial request was for a pair of pruning scissors that kept the strength and durability of gardening tools, but were lightweight, fine and able to cut branches and roots. The master craftsman Masakuni, who had previously made flower arranging scissors, bought several hundred bonsai to test out his designs.
The discarded prototypes are said to have been in the hundreds and filled 3 fruit boxes. The final designs became the prototype for the scissors we use today. Orders from other professionals for wire snips and trunk benders began to arrive and through the meeting of the intelligent and technically minded Murata Kyuzo (Kyuka-en), all manner of bonsai specific tools came into being. Long-handled pruning scissors, root pruning scissors, concave cutters, pliers, jin carving tools and powerful trunk bending jacks were all new products to the bonsai world.
 The invention of new tools continued into the second generation (Kawasumi Kenji 1932 – ). The introduction of a stainless steel range that combined durability and rust resistance with a sharp cutting edge proved very popular with bonsai enthusiasts. After the war many of the blade making areas began to develop their own bonsai tools using Masakuni as the prototype and there are now many hundreds of different types of bonsai tools on the market to choose from.
Blade tips
As fine work is carried out with the tips of the blades, it is better if they close. It is not a problem if they overlap slightly and can still be used; it is only a problem if the tips do not meet when the scissors are closed. In order to make them meet, the curve must be altered. Place the arm on an anvil so that the blade is at right angle to it, and tap the curved several times with a hammer.
Choosing a pair of scissors
Almost all bonsai scissors are made of steel, although some just have steel blades or are made from a stainless steel alloy. While steel is the most traditional material of hand-made tools, stainless alloys are most common in mass produced, machined tools. Which you choose is down to how much you enjoy looking after them.
If you are not diligent about looking after your scissors choose stainless; if you can clean and oil them after every use, choose a steel pair. The cutting edge depends on how often they are sharpened. The only difference between them is that stainless steel is harder and therefore more difficult to sharpen.
The amount spent on scissors should be in accordance with the ability level of the person using them. For absolute beginners, a pair of disposable scissors from the pound shop or dollar store can be effective. On the other hand, good tools can compensate for poor technique. For most hobbyists, the top grade of tools is considered to be Masakuni. It is also important to learn how to look after them while in use. In consultation with your bank balance, choose the tools that best suit your hands and ability.