Bonsai tools need TLC, too
Continuing our series, we show you how to maintain three important bonsai cutters because, just like our bonsai, the tools we use also need tender care. We describe their uses and explain how they are sharpened and kept in pristine condition.
Three tools that have a similar appearance: concave cutters, root cutters and trunk splitters. The major difference between them is the design of the cutting blades.
Used to gouge out material from the trunk, branches or roots. They are mainly used to clean up the wound created by using branch cutters or a saw. The cutting edge is rounded and it creates a concave cut.
There's a variety of branch cutters that have a slightly concave edge suitable for very light gouging work. In order to gouge out large amounts of wood it is necessary to use plenty of force, therefore genuine concave cutters are durable and strong.
Carbon steel concave cutters (Large) Length 20 cm / 7.87"
Mainly used to prune roots when transplanting, hence the name. It is possible, though, to use them to prune branches. They are similar in design to Japanese nail clippers and the blades meet together in order to cut. As the blades are straight they are easy to sharpen.

Carbon steel root cutters (Large) Length 20 cm / 7.87"
These are very useful for creating jin and shari, but can also be used to cut branches and roots. They are similar in appearance to end nippers and have a straight-edged blade. Whereas the cutting edge of root cutters are curved, trunk splitter blades are straight and the meeting point between the two blades is different.

Stainless steel trunk splitter (Large) Length 20 cm / 7.87"
Example of sharpening bits
1 is used for very hard stone. 3 and 4 are for general metal work. 2 is formed from a mix of polishing grains and rubber and can be used to grind and polish at the same time. These tools can be used to sharpen awkward shaped blades with ease when combined with a flexible shaft rotary tool
1. Grade 80 whetstone (3mm shaft)
2. Grade 180 rubber whetstone (3mm shaft)
3. Grade 100 whetstone (3mm shaft)
4. Grade 100 whetstone (6mm shaft)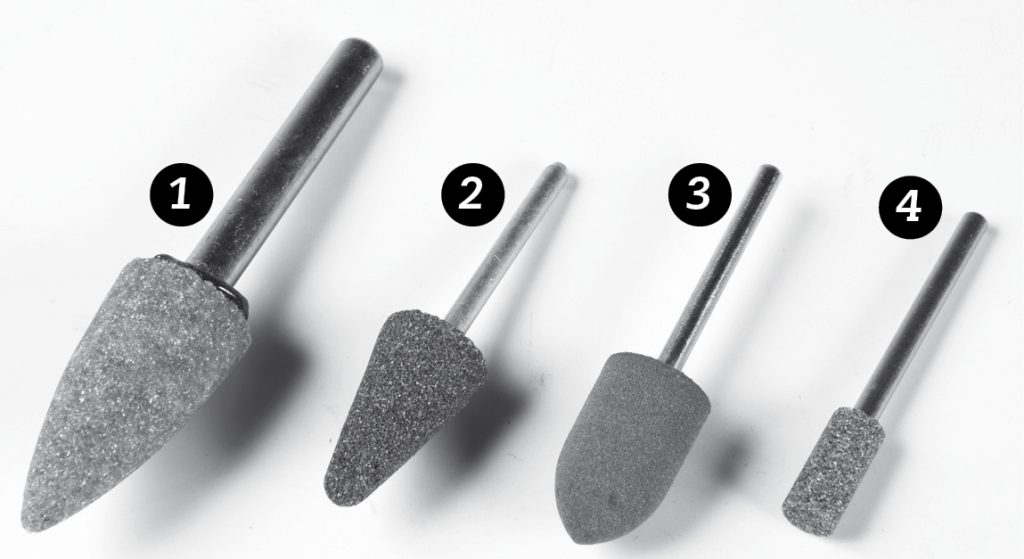 All three come in both carbon and stainless steel varieties and in three different sizes. Concave cutters are an essential tool for anybody who does a lot of branch removal work. Even though there may not be many opportunities to use them, they are very convenient and useful when needed. These tools are not aimed at the beginner as they are used less often. So purchase them only once you have reached the stage where they become necessary.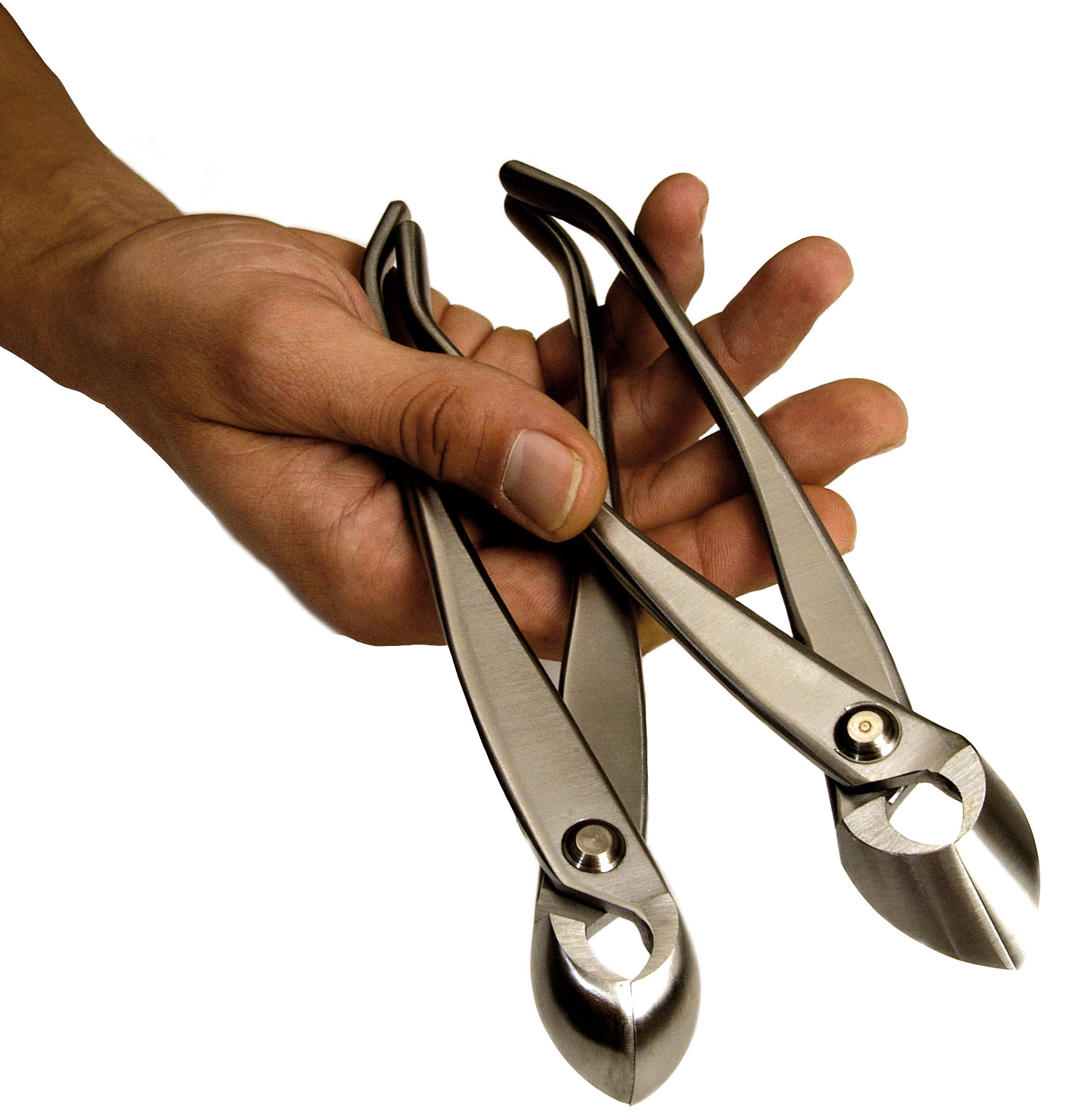 Concave cutters are difficult to sharpen due to their shape. Using a round stick-like whetstone, the inside edge must be sharpened with patience and perseverance. A problem arises if the blades becomes chipped and damaged and need to be sharpened with an electric grinding stone. This must be done with a special pointed grinding bit. This can also be achieved by using a thin round whetstone with a Dremel type rotary tool.
These tools should be cleaned and sterilised with alcohol after use. For carbon steel tools, the entire body and blade is cleaned and wiped with oil to prevent rust. If the cutting blades become blunt, they should be sharpened with a whetstone or diamond sharpener.