Let's look first at the roots, or nebari as they are known in Japan. Why? Because they form — quite literally and figuratively speaking — the base of the tree. They are one of the most basic elements that condition its general movement. The roots emerge from the root base into the soil enabling the tree to sit firmly in position.
The nebari is the Japanese for root base and is of paramount importance to a tree — the pivotal point in the creation of a bonsai. From the nebari the power of the tree and its movement are defined. When you start to create a bonsai, you will have its future appearance in mind, and this is usually determined by the nebari. The ideal scenario is to find a tree with movement that derives from the nebari.
In bonsai, the star shape is not required. On the contrary, you should encourage asymmetry. Indeed, in nature trees have roots that grow according to the local growing conditions: sunny or shady, south or north facing, and so on. What's more, roots will develop like branches. Therefore there are roots of differing lengths and thickness. It is a constant requirement in the art of bonsai to avoid symmetry.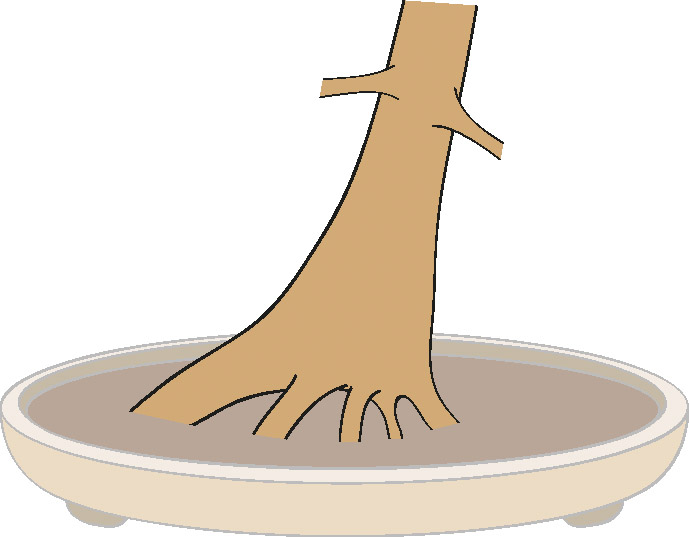 Asymmetrical nebari of a leaning tree:
The proportion between the roots that extend and those that support is roughly 6/4 to 7/3
And yet there is balance!
The nebari of a tree is irregular. And yet the tree is well balanced and does not fall over. There are extending roots — in Japanese called Hikine — which prevent the tree from falling over. There is also one root that stays put called Ukene. Together they ensure that the tree is in balance. The power is generated by Hikine. The point of balance is achieved by Ukene. The position of the branches in relation to the trunk helps to establish the weight of balance.
We have to admit that not all trees have a beautiful nebari. In particular, many junipers lack apparent roots. On the other hand, when there is a defective root, we shouldn't try to hide it by artificial devices such as a stone, grass, or small characters. You need to use methods such as root grafting, layering, or changing the style. But those tasks are not for beginners . . .. At this level you should, simply concentrate on choosing a tree that already has a good nebari and reject those that have major defects.